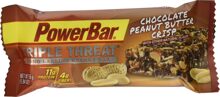 PowerBar Triple Threat Crisp Bar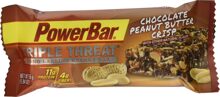 PowerBar Triple Threat Crisp Bar
Fuels like a PowerBar, tastes like a candy bar,
this great tasting snack will keep you going between meals, whether at work or play. Crisp for those who want a more nutritious "candy bar" experience. Delivers the nutritious energy you expect from PowerBar.* For active guys who want the taste of a candy bar yet seek a nutritious energy snack to stave off hunger, PowerBar introduces new Powerbar Triple Threat Crisp -- a line of four new energy snack bars that fuel like a Powerbar and taste like a candy bar.* Offered in both crispy and chocolate-caramel-layered textures, Powerbar Triple Threat Crisp bars deliver great taste and the energy and nutrition guys need to power through a busy day.*
"Our consumer research is consistent when talking with guys who play sports or work out regularly and who think about personal nutrition: They feel they must trade off taste for nutrition when choosing an energy snack," said PowerBar Associate Brand Manager Todd Wehmann. "They acknowledge that healthier snacks exist; however, to them nothing tastes like a candy bar. Our new Triple Threat bars offer these guys a new snack alternative -- one that delivers the taste they want and the convenient energy and nutrition they need."
Backed by two decades of nutritional expertise, Powerbar Triple Threat Crisp bars offer men more than great taste. Each 55-gram bar is fortified with sixteen vitamins and minerals and a balance of carbohydrates, protein and fiber. The bars provide 100 percent daily value of vitamins C and E, and ten grams of protein, four grams of fiber and 30 to 32 grams of carbohydrates. Designed to conveniently stash in an office desk drawer or a gym bag, Powerbar Triple Threat Crisp bars can be eaten at any time of the day for a tasty and nutritious energy boost. The bars contain 220 to 230 calories and are free of trans fats.