Quick Links to Our Prices
How does this work and how do stores get listed? See our disclosure below to learn more. Price History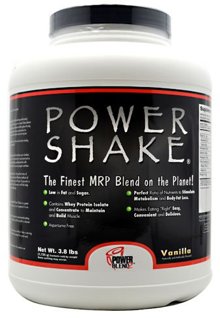 Power Blendz Powershake MRP
Power Shake MRP by Power Blendz Nutrition is the ultimate meal replacement shake featuring low calories, along with being loaded with essential vitamins and minerals your body needs daily. This highly effective formula is designed to feed your muscles, while starving fat to develop rock solid muscle and strength.

Power Shake is loaded with essential carbohydrates, protein and vitamins-minerals. The information below will show how each of these will benefit you when using Power Shake by Nuco.

Carbohydrates - Are the "no-carb" people crazy? Carbohydrates are the body's preferred energy source, or fuel. Try taking a "no fuel" trip in your car. Power Shake delivers energy-packed carbohydrates to keep you fueled for your workouts and throughout the day.

Protein - Far superior to soy and egg, whey protein isolate and concentrate deliver the protein needed to maintain the muscle you have and build more fat and calorie burning lean tissue.

Vitamins / Minerals - Our formula is fortified with 18 vitamins and minerals including Calcium, Vitamin C, Vitamin E, Folic Acid, Vitamin B6 and B12.

Why do I need Power Shake?

Ideally you should be eating 4-6 balanced meals every day to build and maintain you bodies' perfect health and great shape. In the busy world you live in, it is not practical or economical to shop, prepare and consume all the meals you need. That is why athletes, professionals with hectic schedules and especially seniors have turned to Power Shake to assure proper nutrition and health.

Frequent eating is vital to maintaining a strong and healthy metabolism. The perfect ratio of nutrients found in this great tasting and convenient drink offers a safe and effective methods of healthy weight loss over time. it is not a magic pill, and we promise you won't lose 10 pounds in 48 hours like the unrealistic claims made by other companies. You will how ever, with the help of Power Shake, make proper diet and nutrition, quick, easy and delicious.

How do I use Power Shake?

Perfect for Breakfast - Did you know it is estimated that more than 50% of us skip breakfast? Power Shake is a great way to start the day, and since it can be ready in less than a minute, you can squeeze it in no matter how late you are.

All Day - Use Power Shake any time food is not available. Dieticians and nutritionists recommend eating approximately every 3 hours. Using Power Shake makes this possible, and the result is a leaner body, more energy, alertness and a fat-burning metabolism. After Workout - When trying to add muscle, on of the most important meals is after our workout. Take a serving of Power Shake to refill your depleted energy and provide the nutrients needed for quick and efficient recovery.