Warning: This product is not currently available at any store.
Click the button above and PricePlow will email you when the first store has it in stock!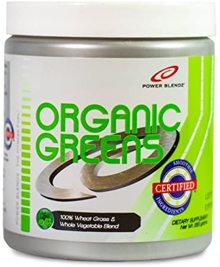 Power Blendz Organic Greens
Organic Greens by Power Blendz Nutrition from Power Blendz gives you an excellent organic blend that lets you take any smoothie or drink and make it a delicious and nutritious vegetable drink. This potent powder is loaded with broccoli, kale, parsley, cabbage, alfalfa, wheat grass, oat grass, and barley grass. Pair with any fruit puree for a great tasting smoothie with a powerful combination of macronutrients to promote your health and wellness.

Benefits:
All Natural and Completely Organic*
Full Serving of Vegetable Greens
Loaded with Vitamins & Minerals
Excellent Source of Antioxidants
Highly Beneficial to Your Overall Health
Easily Mixes into Any Beverage

WHAT'S IN ORGANIC GREENS?

BARLEY GRASS – Barley Grass has a natural high concentration of nutrients providing a balanced source of minerals, vitamins, amino acids, chlorophyll, carotenoids, enzymes, dietary fiber, and much more. It is known for helping to regulate mood and cope with stress.

WHEAT GRASS – Wheat Grass is loaded with nutrients and whole fiber. Great for detoxification and overall nutritional support.

ALFALFA LEAF – Alfalfa Leaf is a green superfood enriched with essential vitamins, minerals, and chlorophyll. In fact, the word "alfalfa" means "Father of All Foods" in Arabic! It is a great source of calcium d-glucarate and beneficial to your overall health.

OAT GRASS – Oat grass is a great source of vitamins A, B5, C, E, and K, as well as minerals such as magnesium, calcium, iron, and much more. Additionally, over 30% of oat grass by weight is amino acids.

BROCCOLI FAMILY – The Broccoli Family includes Cabbage, Kale, and, of course, Broccoli – all of which are included in Organic Greens. This highly nutritional family supplies large amounts of antioxidants, especially Vitamin C. Moreover, these powerful greens contain nutrients that boost your immune response, inhibit cancer causing agents, and lower bad cholesterol levels.

PARSLEY – Parsley, a member of the carrot family, contains a significant amount of antioxidants, minerals, vitamins, and other nutrients. It has long been used to support the urinary tract to treat and prevent kidney stones as well as a diuretic to encourage urination. It is very high in Vitamin C and also helps to ease pain associated with intestinal gas and discomfort.

DIRECTIONS: Add one scoop (scoop included) to your smoothie or favorite beverage.

*This statement has not been evaluated by the Food and Drug Administration. This product is non intended to diagnose, treat, cure or prevent any disease.