Quick Links to Our Prices
How does this work and how do stores get listed? See our disclosure below to learn more. Price History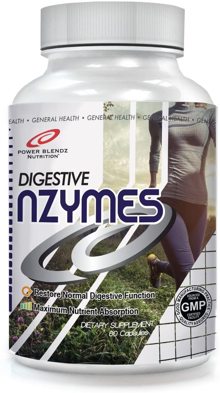 Power Blendz Digestive nZYMES
The Power Blendz Digestive Nzymes
Digestive Nzymes Benefits / Features:
Promotes maximum nutrient absorption
Properly breaks down & absorb protein, carbohydrates and fats
Rids toxins
Boost your immune system
Relief of IBS from foods that contain gluten & lactose
Provides relief from gas & bloating
Increase in normal digestive system activity
What is Digestive Nzymes?
Power Blendz Nutrition Digestive Nzymes features an innovative formula, offering you a unique blend of all-natural enzymes. These enzymes work extremely well with each other in helping your body properly absorb essential nutrients, by maximizing the digestion process of the foods you consume. Our Team here at Power Blendz Nutrition have invested several years into research & testing, prior to the development and product release of Digestive Nzymes.
The modern diet will not provide you with the proper ratio of enzymes to promote digestion and immune activity. Digestive nZYMES by Power Blendz Nutrition is one of the most complete digestive enzymes supplements available on the market.
This multi-enzyme product includes proteases (enzymes that break down proteins), lipases (enzymes that break down fats), and carbohydrases (such as amylase, which are enzymes that break down carbohydrates). Digestive nZYMES also contain a wide array of plant sourced enzymes, which are the most stable among all enzymes, survive digestion well and have a broad spectrum of action.
Tips and Benefits!
How do I use Digestive Nzymes?
Take (1) Capsule at the beginning of each meal as a dietary supplement, or as directed by a health care professional. Do not exceed six capsules daily.
Tip 1:
It is important that you have a healthy diet regimen and stray away from processed foods. This will help you obtain better gut flora, therefore achieving better results with Digestive Nzymes.
Tip 2:
It's important to drink an adequate amount of water daily, as it is beneficial to proper absorption of any supplements you may be taking. Drinking Water Daily! will also help the process of cleansing your body of toxins.