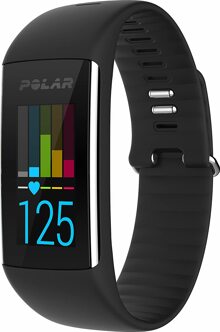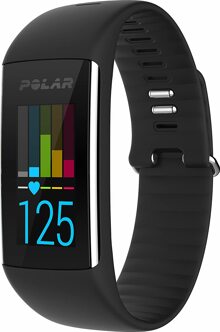 E1POL90057419
A360 Fitness Tracker
2-Year Limited Warranty
Bundle Includes:
Polar A360 Fitness Tracker with Wrist Heart Rate Monitor, Black, Medium
Fusion Bluetooth Headphones Black/Red
Universal USB Travel Wall Charger
1 Piece Micro Fiber Cloth
1 Year Extended Warranty
This waterproof fitness tracker is the first to have both a wrist-based heart rate monitor and Polar personalized training guidance, as well 24/7 activity tracking. It even has smartwatch features like smart notifications and a color touchscreen.
Accurate Simplicity
Heart rate based training is more convenient than ever. Just tighten the wristband, turn on the training mode, and get going! Quickly and effortlessly monitor your heart rate - whether you're out for a run, working out at the gym, or even cycling to work.
Your perfect training companion
Polar A360 keeps you in the right heart rate zone and helps you to reach your training goals. Go for a run or walk and measure your speed and distance from the movement of your wrist - indoors and out. Follow the details of your training session directly from your wrist.
All you need to track your activity 24/7
The Polar A360 fitness tracker measures your activity, training, steps, calories, and even your sleep patterns. Includes the Polar specific Activity Guide, which supports you with motivational feedback to help you reach your daily goals.
Stay connected with Polar smart notifications
Don't miss a thing with smart notifications. This fitness tracker gives you vibrating notifications about incoming calls, messages, social media updates, and calendar events.
Check your heart rate at a glance
Navigate to My Heart Rate on your A360 to see your current heart rate.
Polar A360 + Polar Smart Coaching = Results
Polar A360 is the fitness tracker that does more. Together with Polar Smart Coaching you can assess your day-to-day fitness levels, plan your individual training, work out at the right intensity and receive instant feedback - designed for maximum enjoyment and motivation.
Start fresh every day
Track everything you need to know about your day, starting with monitoring your sleep quality and going on to your steps, distance, calories burned and any activity you do. You can check your daily activity goal and get practical guidance if you need a little extra help to reach it. The Polar A360 even vibrates to remind you to move if you've been inactive for too long. All the details about your activity and its health benefits can be found in Polar Flow
Tech inside, style outside
The Polar A360 is a fitness tracker with an elegant, minimalist design that combines fashion and function to great effect. Get all the information you need on a sharp, high resolution full color touch screen. Blend Polar A360 with your personal style and mood by choosing the color of the soft, silicone wristband that best suits you. Choose from three different sizes with a secure, easy to use buckle for a comfortable fit.
Don't miss a thing
With Polar A360 you can decide if you want to be connected and get alerts directly on your wrist. In training mode, Polar A360 can let you know when someone's calling so you can decide if you want to stop. The rest of the time you can also stay on top of texts, appointments, and social media by getting alerts directly on your wrist.
Features
ACTIVITY GUIDE
Shows how active you've been during the day, and offers practical guidance like walk for 50 minutes or jog for 20 minutes you can choose how to reach your daily activity goal. Meet your goal faster ...