Warning: This product is not currently available at any store.
Click the button above and PricePlow will email you when the first store has it in stock!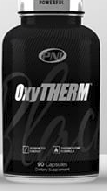 PNI OxyTherm Fat Burner
Experience the Proven and Effective Weight Loss Solution!

This new powerful fat burner ios a thermogenic blend of ingredients for maximum fat loss. It specifically targets and actually turns off the receptors that hold onto your bodyfat. Time to release the hold on your bodyfat! But the only the bad kind! Did you know that burning the wrong fat can actually hinder your weight loss goals? This is where OxyTherm shines...it goes after the fat that covers your muscles, not your good fat!
Attack the fat that is covering your muscles


Release the hold your body has onto fat

Protect the good fats in your body
---
When formulating OxyTherm, we asked a very simple question. "Why is the last place to lose fat, the FIRST place to gain it?"
OxyTHERM's advanced jitter-free formula has been designed by PNI to support metabolism, boost energy and mental alertness, and enhance thermogenesis.  OxyTHERM provides clean, smooth, jitter-free energy in a concentrated one (1) capsule serving.
Benefits:
Supports Appetite Supression & Metabolism
Increase Thermogenesis

NO DMAA

Increase Alertness & Focus

---
Nutrition Facts

Serving Size: 1 Capsule  
Servings per Container: 60  

Amount Per Serving  

Proprietary Blend - 120 mg  
Synephrine HCL, Higenamine, Bacopa Monnieri 50% Extract, Cirsium Oligophyllum (Plant), 10:1 Extract, Dandelion Root, Ashwagandha 5%, Bauhinia Purpurea 10:1, Yohimbine HCL
Caffeine - 250 mg  

Other Ingredients:  
Modified Starch, Gelatin, Magnesium Stearate, Silicon Dioxide
---
Who Should Take OxyTherm Pro?
Anyone with stubborn fat in the hips, stomach, butt or neck
Anyone looking to get rid of that fat that is covering up muscle tissue
---
OxyTherm Pro Directions

Take 1 capsule on an empty stomach up to twice per day. Take at least 6 to 8 hours apart. If you are a beginner, start with taking only 1 capsule per day. Do not take longer than 8 weeks without a 4 week break.
---
Warnings & Side Effects
This product is only intended to be consumed by healthy adults 18 years of age or older. Pregnant or nursing women should not use this product. Consult with your health care provider before using this product, especially if you are taking any prescription, over the counter medication, dietary supplement product or if you have any pre-existing medical condition including but not limited to: high or low blood pressure, cardiac arrhythmia, stroke, heart, liver, kidney or thyroid disease, seizure disorder, psychiatric disease, diabetes, difficulty urinating due to prostate enlargement or if you are taking a MAO-B inhibitor or any other medication, including but not limited to MAOIs, SSRIs, or any other compounds with serotonergic activity. This product contains caffeine and should not be taken by individuals wishing to eliminate this ingredient from their diet. Discontinue use 2 weeks prior to surgery. Do not use in combination with other caffeinated products. Discontinue use and immediately consult your health care professional if you experience any adverse reaction to this product. Do not exceed recommended serving. Do not use if safety seal is broken or missing. This product may contain ingredients banned by certain sports organizations. User assumes all risks, liabilities, or consequences respecting testing. KEEP OUT OF REACH OF CHILDREN.