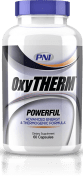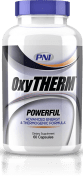 PNI's new OxyTHERM Pro is a thermogenic that functions as an "alpha 2 blocker." This is widely considered to be 2014's replacement to OxyELITE Pro.
The alpha-2 receptor has been implicated in a number of studies as an agent that directs fat storage to "trouble areas" for fat loss, particularly the abdomen.[1,2] OxyTHERM Pro's proprietary blend aims to disable alpha-2 receptors, thereby promoting the burning of subcutaneous fat that surrounds muscles, rather than the visceral fat that supports and protects organs.
Ingredients
Rauwolscine leaf and root
Rauwolscine is an extract of yohimbine that functions as a natural alpha-2 receptor antagonist.
4-amino-2-methylpentane citrate
Also seen in other products, such as AMP Citrate, this is a Pouchong tea extract meant to speed up metabolism.[3]
Bauhinia purpurea 10:1 extract
Bauhinia purpurea is a plant that grows in Asia and the United States. In studies, it has been found to have a wide range of beneficial health properties.[4] The 10:1 ratio indicates it may be included to protect the liver, as this ratio was used in a study that demonstrated benefit to rats with liver damage.[5] Other supplements have used it as a metabolic booster.[6]
Bacopa monnieri 50% extract
This water hyssop extract is often paired in other supplements with bauhinia purpurea. It is thought to increase metabolism and regulate thyroid hormones.[7]
Cirsium oligophyllum 10:1 extract
This is believed to enhance the thermogenic effect of caffeine, based on results from a study on body fat loss in rats, published by the International Journal of Biological Sciences.[8]
Caffeine (250mg)
The equivalent of about two-and-a-half cups of coffee, this is likely the primary thermogenic agent in the formula. It is also included to provide energy.
---
References
Garenc, C, et. al; Molecular Medicine; "The alpha 2-adrenergic receptor gene and body fat content and distribution: the HERITAGE Family study;" February 2002
Rice, T, et. al; Diabetes; "A genomewide linkage scan for abdominal subcutaneous and visceral fat in black and white families: The HERITAGE Family Study;" March 2002
Lecheek Nutrition; Ampilean
Kumar, T, et. al; Research Journal of Medicinal Plants; "Bauhinia purpurea Linn: A Review of its Ethnobotany, Phytochemical and Pharmacological Profile;" 2011
Yahya, F, et. al; Evidence Based Complementary Alternative Medicine; "Hepatoprotective Activity of Methanolic Extract of Bauhinia purpurea Leaves against Paracetamol-Induced Hepatic Damage in Rats;" June 2013
Bauhinia Purpurea
Bacopa Monnieri
Mori, S, et. al; International Journal of Biological Sciences; "Body fat mass reduction and up-regulation of uncoupling protein by novel lipolysis-promoting plant extract;" 2009