Quick Links to Best Prices
60 Capsules
(Buy 1 Get 1 FREE) Price History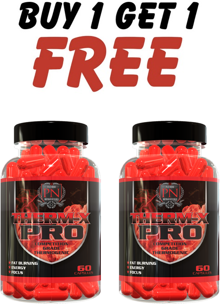 Platinum Nutraceuticals Therm X Pro
THERM-X PRO by Platinum Nutraceuticals is a potent and powerful thermogenic designed to shred weight while boosting energy, increasing focus, and reducing appetite.

Benefits:
-Fat Loss
-Increased Energy
-Mental Focus
-Zero Crash
-Reduced Appetite
-Mood Enhancer

Supplement Facts
Serving Size: 1 Capsule
Servings Per Container: 60

Amount per Serving

Therm-X Pro Fat Burning Matrix : 755mg - AMP Citrate, Caffeine Anhydrous(200mg), Green Tea Extract, Garcinia Cambogia, B-Phenylethylamine HCL, Cayenne Pepper, Synephrine HCL

Start building muscle size and strength with THERM-X PRO by Platinum Nutraceuticals & other Thermogenic Supplements at i-Supplements.com.

These statements have not been evaluated by the FDA. These products are not intended to diagnose, treat, cure, or prevent any disease.