Quick Links to Best Prices Price History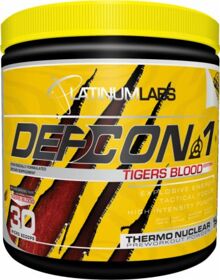 Defcon1 Second Strike
Defcon1 by Platinum Labs has always been known for supplying key anabolic and nootropic ingredients to deliver a cocktail of perfection. Now, the same company has replaced their former stimulant profile to include the addition of THREE new key stimulants that have NEVER been used in these doses in conjunction with their nootropic powerhouse of a panel. To completely understand the raw power of this formula, you must look beyond the marketing value of the product, and get into the nitty-gritty of the product's formulation. This is where the new creation that is Defcon1 Second Strike is becoming an instant phenomenon.*
Never Before in Defcon1
Dendrobium
Known in Traditional Chinese Medicine as Shihu, Dendrobium is used to promote the health of the stomach, kidneys, lungs, and most of all as a very powerful strengthening tonic.* Dendrobium is derived from the orchid plant family.
Dendrobium as a stimulant offers outstanding increase in body fat metabolism, cognitive focus, glycolysis, adrenaline production and increased thermogenesis. Combining Dendrobium + CDP Choline creates an insane neuromuscular connection, powered by the strengthening properties in dendrobium, resulting in an increase in strength.*
Higenamine
Higenamine, also a neurological and cardio stimulant, brings many more untapped benefits into the formula of Defcon1 Second Strike. It has been found that higenamine produces cardio tonic, vascular relaxation, and positive bronchodilation. This makes Higenamine the "one hit wonder" for basically every facet of the Pre-Workout supplement.*
Neurological/Cardiovascular Stimulation*
Vasodilation (Relaxing/Enlargement of Veins)*
Bronchodilation (Increased endurance/uptake of VO2)*
Bronchodilators are highly used and sought after in the world of bodybuilding and competitive athletics as a whole. This offers a new realm of attack for burning fat and retaining muscle mass by doing so. Combining this new bullet point with the fact that Higenamine brings vascular relaxation and more neuro-cardio stimulation to the table makes this ingredient a major plus to Defcon's resume.*
Advantra-Z (Synephrine)
Advantra-Z is perhaps Defcon1's most powerful energy component to ever exist. Used in pharmacology since the 1920s, Synephrine has been used from both ends of a very vast spectrum: appetite enhancement and weight loss. While synephrine boasts a number of other natural healing effects, this part of the bitter orange plant is most commonly used for regulating fat levels in the blood, lowering blood sugar in people with diabetes, stimulating the heart and circulation, "blood purification," and disorders of the liver. For users of Defcon1 this translates to two things:
More energy!*
Reduction in body fat!
Combining the Three
These three new ingredients alone could fuse to form a supplement that would be remembered for years. But let's be honest, Platinum Labs has made it clear that they want to be remembered FOREVER. This three headed beast of an addition is promised to blow users away by making Defcon1 the fastest acting Pre-Workout product in the history of the category. The neurological stimulation alone provided by these three ingredients promises energy and strength to crush any previously set limits. Always remember that the human body is capable of MUCH MORE than our conscience can comprehend at times, and with a product PACKED with muscular enhancers, the only thing that compliments it practically? The most powerful formula of cognitive enhancers to ever be created. This is only the tip of the spear… Defcon-1 Second Strike is returning fire with Multiple Nitrates and Vasodilators for INSANE PUMPS, the best Anti-Catabolic Compounds to reduce Muscle Loss during Workout, MORE Famous Nootropics for the most intense Cognitive Experience Ever, and a plethora of positive mood boosting compounds to potentiate dopamine production! Platinum Labs removed NOTHING that made this product number one, and the synergistic combination of the old formula with the newer innovations brings forth a release that even Apple could envy.*
What Created the Legend
CDP Choline - (Cytidine 5'-diphosphocholine) is a psychostimulant/nootropic that has been shown in medicine to increase dopamine receptor densities, and help prevent memory impairment resulting from poor environmental conditions. Preliminary research has found that CDP Choline supplements help improve focus and mental energy. CDP Choline has also been shown to amplify the release of many other key bodybuilding hormones such as LH, FSH, GH and TSH! Among these HUGE benefits, CDP Choline is also proven to aid in preservation of arachidonic acid content and stimulation of glutathione synthesis.*
Agmatine Sulfate - This ingredient, a lot like Defcon in general, has been legend since day one. Like Higenamine, Agmatine also boasts an insane number of athletic effects. This includes enhancing AND improving insulin response in the body. Insulin has been proven to be one of the biggest keys to building a leaner, harder, and more muscular physique. Agmatine is also thought to stimulate the production of GH and LH hormones. What does that mean? MORE IGF AND MORE TESTOSTERONE, which lead to massive body recompositioning effects. Although these points are huge, Agmatine came to fame by providing some of the largest outputs in Nitric Oxide among other compounds. Agmatine brings a lot of the same benefits of Arginine, just at a much greater rate of potency. It should come by no surprise that Agmatine also boasts a decidedly nootropic effect and can help achieve a mental edge in stressful and competitive environments. My conclusion? This is a supplement for serious contenders.*