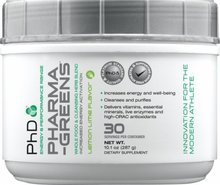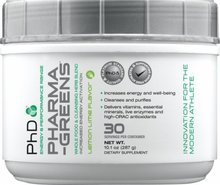 A super convenient source of antioxidants, herbs, enzymes, co-factors vitamins, scarce nutrients, adaptogens, trace elements and minerals, pre and probiotics.
Potent Full Spectrum Green Nutrition featuring 28 natural ingredients in optimal amounts that make it easy to avoid nutrient deficiencies and insure total body health. PhD Pharma-Greens supports the body's ability to digest and absorb nutrients.*
Superfoods like those found in Pharma-Greens support the body's cells for optimum energy, superior well-being and peak performance.*
PhD Pharma-Greens was formulated for:
Serious athletes
Anybody with an inadequate diet or low intake of vegetables and proteins
Anybody looking for performance edge
Anybody who wants more energy or stress relief
Anybody who wants optimal performance
Green foods increase body alkalinity.A high acid internal environment is caused by:
A diet high in sugar, processed carbohydrates, alcohol, soda, coffee, and animal protein
Stress
Free radicals
Production of lactic acid during muscle contraction
A healthier energy promoting alkaline environment can be created by:
Consumption of dark leafy greens, vegetables, filtered water, lemons, limes, garlic and onions, spices, fruits, nuts and seeds, olive oil, sea salt, whole grains, soy, oats, lentils, and whey protein.
Exercise
Stress relief
Optimal vitamin and mineral intake
Whole Super Food Nutrition and Cleansing Herb Blend
Increases energy and reduces stress*
Cleanses and purifies the digestive system*
Promotes an alkaline environment (pH balance)*
Supports immune function*
Enhances focus and concentration*
Enhances physical performance*
Enhances general well being and cellular health*
Equivalent nutrition value of 6-8 servings of whole vegetables and fruits
Pharma-Greens contains
No artificial sweeteners, colours or flavours
No wheat, gluten, corn, preservatives, MSG or synthetic chemicals, lactose, sucrose, dextrose, egg, cholesterol or yeast
A full measurable dose of each ingredient, just like all PhD products do.
Nutrient Rich Super Foods
Barley Grass, Alfalfa Grass, Wheat Grass, Whole leaf Kamut Grass, Spinach, Non-GMO Hypo-Allergenic Soy Sprouts, Carrot Powder, Organic Red Beet Root
This combination of nutrient rich super-foods delivers vitamins, essential minerals, live enzymes, Fiber, phytoestrogens and high-ORAC antioxidants in their natural biological form.
Green super-foods contain high levels of alkalizing chlorophyll. Chlorophyll supports blood health and is a powerful deodorizer and detoxifier.*
Super-food grasses are rich in enzymes, especially superoxide dismutase (SOD) a detoxifier and anti-aging nutrient.*
Spinach is especially rich in Vitamin C, beta-carotene, potassium, magnesium and calcium.
Carrots and whole red beets are a source of carotenoids with powerful antioxidant properties.* They facilitate digestion as well as support the kidneys and the lymphatic system.*
Non-GMO hypo-allergenic Soy sprouts are a source of antioxidants and phytoestrogens.
Green Micro-Algae
Spirulina, Cracked-Cell Chlorella
Green Micro-Algae are packed with chlorophyll, vitamins, essential fatty acids and rare trace minerals.
Spirulina provides abundant concentrations of complete vegetable protein, essential fatty acids, absorbable natural iron, carotenes, chlorophyll, and vegetarian vitamin B12, as well as phycocyanin, a powerful antioxidant and rhamnose glycoside for sustained energy.*
Chlorella is a powerful detoxifier that removes PCB's like mercury and cadmium from internal organs, and boasts 20 times the chlorophyll of alfalfa.* Chlorella is high in easily digested vegetarian protein, RNA/DNA and is a rich source of iron and zinc and 18 other vitamins and minerals.
Cruciferous Vegetables & Legumes
Broccoli and Mung Beans
Broccoli contains a number of powerful agents including sulforaphane, glucosilonates, and indole-3, which stimulate the natural detoxifying enzymes in our bodies.*
Mung Beans are a rich source of amino acids, and are high in Fiber, iron, folate, copper, magnesium, manganese, phosphorus and potassium
Non-GMO Soy Bean LECITHIN (Phosphatidyl Choline)
Lecithin is essential to every cell in the body.
Phosphatidyl choline is changed into actylcholine a compound essential for the transmission of messages from one nerve ending to another.
Lecithin helps with the absorption of vitamins A, D, E and K.*
Lecithin is also necessary for beautiful hair and nails.*
Phytonutrients
Acerola, Blueberry (whole Fruit) standardized 20% Anthocyanins and Elderberry Extract (whole fruit) standardized 6.5% Anthocyanins, Green tea extract standardized to 90% polyphenols (20:1 = 300mg), Grape Seed Extract standardized to 95% proanthocyanins (Resveratrol) Tomato Juice (Lycopene), Pomegranate Seed
Pharma-Greens phytonutrient blend is loaded with free radical fighting antioxidants.*
Acerola is the best source of natural vitamin C and bioflavonoids.
Green tea assists digestion and the proliferation of 'friendly bacteria' in the intestines.* It has become quite popular due to its antioxidant abilities.* Green tea can increase metabolism, and help promote weight loss.*
Resveratrol is a powerful antioxidant 50% stronger than vitamin E and 20% stronger than Vitamin C. It supports blood vessels, nourishes skin and aids in circulation.*
Pomegranate seed is a rich source of vitamin C, folic acid and vitamins A and E. One pomegranate also contains three times the antioxidant, properties of red wine or green tea
Standardized Herbal Extracts
Astragalus Root Powder, Milk Thistle Extract (Silybum Marianum) standardized to 86% Silymarin, Siberian Eleuthero Root Extract standardized to 0.8% eleutherosides (28:1 = 1,680mg, Ginkgo Biloba 24% Extract
Astragalus is an immune system supporting herb.*
Milk Thistle contains bioflavonoids that have a beneficial effect on liver function; strengthens liver and stimulates new cell growth; liver detoxifier and protector.*
Siberian Ginseng is a powerful adaptogens that helps your body cope with stress and fatigue.*
Ginkgo Biloba supports vascular health and enhances mental function by increasing oxygen flow to the brain.*
Probiotic-Greenbiotic Complex
Lactobacillus rhamnosus, Lactobacillus helveticus, Lactobacillus plantarum, Lactobacillus salivaruis, Lactobacillus casei, Bifidobacterium breve, Bifidobacterium bifidum, Bifidobacterium longum
For our bodies to reap the full benefit of the nutrients contained in the foods that we consume, those foods must first be digested and broken down into more easily absorbable forms.
Pre and Probiotics help to establish and maintain healthy intestinal flora by restoring the balance of microflora necessary for a healthy gastro-intestinal tract.*
Each serving of Pharma-Greens contain prebiotics (FOS) plus 12 billion active probiotic cells per gram, from 8 different strains, which help digest foods as well as help make B vitamins and absorb minerals.
High Fiber Nutrition
Apple Pectin, Oat Fiber, Barley Malt
Soluble and insoluble plant source Fiber
Promotes regularity*
Moderates appetite*
Accelerates the rate at which waste material passes through the digestive system*
Barley malt soothes the intestines and gives moisture to stool*