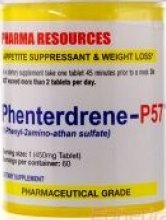 Pharma Resources Phenterdrene-P57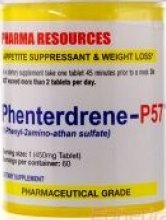 Pharma Resources Phenterdrene-P57
Phenterdrene P57 is a fat burner that makes a true breakthrough
in the battle when fighting the battle of weight loss. Phenterdrene P57 helps control the appetite with Hoodia and contains powerful thermogenic fat burners, making it easier to reach and maintain your ideal weight.


Phenylethylamine is found in many foods including chocolate,
which gives Phenterdrene P57 an edge over other weight loss pills because it will help you feel good, as well as lose weight!


The body metabolism is greatly effected by the thyroid gland.
Phenterdrene P57 helps stimulate the thyroid gland with several thermogenic ingredients that speeds up metabolic rate resulting in thermogenic weight loss. When you take Phenterdrene P57 before physical activity, you can expect an extra boost of energy which will give you endurance and help you burn more calories during your workout.

Phenterdrene P57 contains:

Hoodia Gordonii Extract (Appetite Suppressant)
Theobromine HCL (Mood Enhancer)
Para-Synephrine HCL (Stimulant)
Caffeine (Stimulant)
Yohimbine HCL (Promotes Fat Loss)
Phenterdrene P57 can:

Control hunger & cravings to help you eat less
Aid in fat absorption and fat breakdown
Assist in overall body weight loss
Provide a boost of energy
Supplement Facts:


Serving Size: 1 Tablet
Servings Per Container: 60
Amount Per Serving
Caffeine Anhydrous 200mg
LipidcAMP Complex 150mg
Hoodia Gordonii, Theobromine HCL, Yohimbine HCL, 1,3-dimethylamylamine (Geranium), Para-Synephrine HCL
Methyline-5-L-Amine Matrix 100mg
1-Phenyl-2-Amino-Athan Sulfate, 4-Hydrozyphenethylamine, DL-Phenylalanine, 4,2-Dimethylaminoethyl, O-Meth-Oxyphenyl-Ethylamine
Other Ingredients: Cellulose, Magnesium Stearate, Stearic Acid, Sugar Spheres (Sugar, Starch, FD&C Blue 1).
Phenterdrene P57 should always be used responsibly and as directed.
Directions: As a dietary supplement, take 1 tablet 45 minutes prior to a meal. Do NOT exceed more then 2 tablets per day. Do NOT take before bedtime. May cause nervousness, irritability, sleeplessness, and occasional rapid heart beat. DO NOT CONSUME ALCOHOL WHEN TAKING THIS PRODUCT.
Note: Manufacturers continually change product specifications. While we try our best to keep product descriptions up to date, they do not necessarily reflect the latest information available from the manufacturer. We are not responsible for incorrect or outdated product descriptions and/or images.

These statements have not been evaluated by the Food and Drug Administration. This product is not intended to diagnose, treat, cure, or prevent any disease.