Quick Links to Best Prices Price History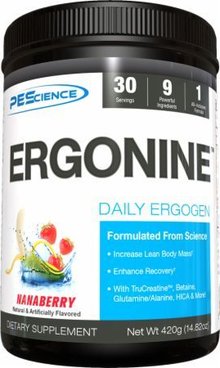 Ergonine is the ultimate once-daily ergogenic supplement that provides you with the supplement foundation you need to build muscle fast.
We have all of the details analyzed in our blog post titled PES Ergonine - It's About Time Someone Made This!
Ergonine Ingredients
The blog post linked above spell out the details, but here's the list of muscle-building ingredients inside:
Creatine Anhydrous - 3g
Betaine Anhydrous - 2.5g
SynerGlut Blend (L-Alanine and L-Glutamine) - 2.5g
L-Carnitine-L-Tartrate - (2g)
HICA - (1.5g)
PerformaLean Blend (Choline Bitartrate, HydroMAX Glycerol, Ferula Asafoetida) - 1.1g
This provides the following benefits:
Ergogenic & Myogenic

The Ultimate Foundation

Increase Lean Body Mass

Reduce Workout Fatigue
Again, see our Ergonine post on the blog for more info.