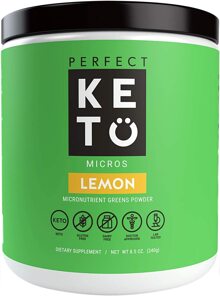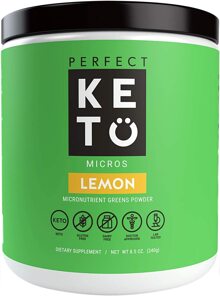 Greens for the Ketogenic Diet: Perfect for those who aren't able to eat as many vegetables or the variety they want while on the ketogenic diet. Most nutrient dense fruits and vegetables will kick you out of ketosis. Get all of your nutrition in one alkalizing greens drink.

Antioxidant and Nutrient Rich: Perfect Keto Micro Greens for ketosis packs all of the vitamins from 26 different organic fruits and vegetables. Unlike other super greens powders we also include 5g of MCT oil powder and herbs for digestion so that your body can actually process all of this nutritional superfood powerhouse. Helps support immunity, and improved circulation.

No fillers or Additives: Unlike others Perfect Keto microgreens supplement contains NO fillers corn starch or fiber additives. This means that our greens powder has zero carbs and zero grams of sugar: just pure healthy balanced super food from 26 different plants. This means you'll get all of your nutrition from these shakes without being kicked out of ketosis.

Clean Energy from Plants: Perfect Keto greens powder will help you get all of the necessary micronutrients that you won't get eating a ketogenic diet and that aren't included in multivitamins, like alfalfa, spirulina, chlorella, barley, and reishi mushrooms. All of this is supported by raw prebiotic & probiotic digestive enzymes. Best for supporting a 30 day daily greens challenge.

Each container comes with 20 servings of 26 different types of organic fruits and vegetables. Our MCT oil powder in this keto greens blend comes from coconuts and is composed of 70 C8 and 30 C10. Naturally vegan / vegetarian juicing.
More