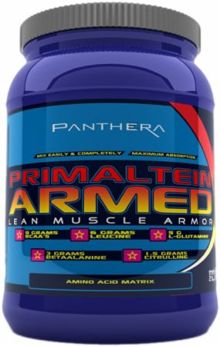 Panthera Primaltein Armed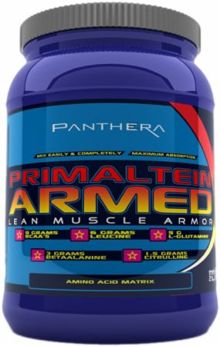 Panthera Primaltein Armed
TRAIN HARD AND SUPPLEMENT SMART - PANTHERA SMART
7 GRAMS L-FORM
BCAAs 4/1,5/1.5 RATIO
3 GRAMS OF LEUCINE PEPTIDES
1 GRAM CITRULLINE MALATE
3 GRAMS OF L-GLUTAMINE

TRIGGER INTENSE TRAINING
& NEW EXPLOSIVE MUSCLE VOUME!
Armed is a highly concentrated
Pharmaceutical Grade Free Form
BCAA, Leucine Peptide, L-Glutamine
Amino Acid formula that delivers an
extremely high ratio of L-Leucine and
L-Glutamine to lean muscle cells
The ingredients in this formula L form (L stands for "Levo" or "instant" in Latin) amino acid supplement when combined with resistance exercise activates the most fundamental anabolic pathways promoting lean muscle recovery and growth.* No other free amino acid matrix offers the combined strengths of L-Leucine, L Iso-Leucine, Valine and L-Glutamine found in Panthera's Armed Amino Acid Complex.
PRE/INTRA/POST WORKOUT
HIGHLY ANABOLIC
You may consume this highly concentrated Amino Acids complex Pre, Intra or Post workout and be assured you will be fully Armed
EACH SERVING OF ARMED CONTAINS
Armed combines PepForm Leucine Peptides
with Pharmaceutical grade Amino Acids to
create a formula which in combination with
resistance exercise promotes and helps support nitrogen levels already within a normal range
to fuel lean muscle recovery and growth.*
MIX EASILY & COMPLETELY
MAXIMUM ABSORPTION
ARMED MAY BE STACKED WITH
PANTHERA AMINO LIGHTNING SERIES