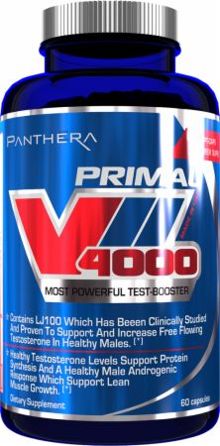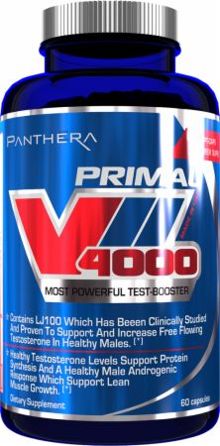 Testosterone is a cholesterol based steroid hormone (Griffin & Wilson). This hormone exerts powerful effects on the male (and female) body throughout one's Life Cycle. The anabolic effect of testosterone directly effects lean muscle and fat distribution. In healthy adult males, testosterone maintains lean muscle mass and supports spermatogenisis and secondary sexual functions. Testosterone (TEST) exists as three forms in a healthy male subject: 1) as TEST tightly bound to Sex Hormone Binding Globulin (SHGB); 2) as TEST weakly bound to albumin; and, 3) As FREE or UNBOUND TESTOSTERONE.
Primal V's principal active ingredient LJ 100 has been Clinically validated in numerous Double Blind Placebo Human Trials (*) to strongly support Free Flowing/Unbound testosterone and hormone levels within a normal range.*
As the Healthy Male ages, gonadal production declines with a resulting decline in serum testosterone of approximately 1% per year after the age of 30 (Morales, Heaton and Carson, 2000). The consequnces of this loss in testosterone function can effect mood, results in the bodies inability to mantain androgenic (male) traits such as a heavier musculature, heavier bone mass and general loss of vitaliy and vigor.*
Consumption of Panthera's Primal V or Primal Test -- which contains clinically studied doses of LJ 100 -- has been found to:
Supports physical and mental energy*
Boosts sports performance*
Helps maintain a healthy anabolic/catabolic balance*
Helps reduce fatigue*
Helps support normal free testosterone levels in men*
Encourages overall wellbeing and hormonal health*
Supports prostate health*
Promotes androgen biosynthesis*
Enhances sports performance by improving energy levels, promoting an anabolic state, supporting free testosterone levels, fat free mass, muscle force and strength.*
Patented, Standardized, Clinically Tested and Utilized by Panthera Labs for over 7 years--Support Your NATURAL TEST Production today:
LJ100 -- 100 lbs of raw material is required to produce 1 lbs of extract--is the only science based Eurycoma Longifolia extract, standardized to 40% Glyco Saponins, 28% Eurypeptides, 30% Polysacharides, and Eurycomanone. Eurypeptides is clinically proven at MIT for its androgenic properties. Building upon the original, basic research at MIT and University Malaya, this product has been suggested in human clinical trials - to increase energy, enhance sport performance, promote anabolic state, and increase fat free mass. LJ100 is made from the rare Tongkat Ali root found within the Protected National Rainforest of Malaysia. It is produced using a patented extraction technology, with high temperature, high pressure, reverse osmosis water extraction method, ultra filtration process, and freeze dried technology without any filler.*(WO 02/17946 A1, US 7,132,117)
Panthera only utlizes the finest dietary supplement ingredients available. We here present the latest published HUMAN CLINICAL STUDIES for LJ100 so that you--the consumer can make an informed choice when considering our Primal V and Primal Test product offerings.
First Asian Andrology Forum in Shanghai China (2002) LJ100 AS A POTENTIAL NATURAL ENERGIZER FOR ANDROPAUSE: 30 men taking 100mg of LJ100 daily for 3 weeks, DHEA increase from 26% to 47% of subjects in 3 weeks, SHBG reduction in 36% volunteers to 66% volunteers. Improvement in AMS and SHIQ score.*
ERGOGENIC EFFECTS OF LJ100: British Journal of Sport Med (2003): 14 volunteers taking 100mg of LJ100 or placebo daily for 8 weeks. LJ100 significantly increase fat free mass, reduce body fat percentages, increase gross muscle power, increase significantly arm circumference, and decrement in the mean sEMG reading.*
International Journal of Andrology 2005: 20 volunteers on 200mg, 400mg, 600mg, or placebo for 8 weeks. Improvement in AMS and SHIQ score. Toxicity study.*
Effect of Eurycoma longifolia Extract on Anabolic Balance During Endurance Exercise: J of Intl Soc of Sport Med (2006): 30 volunteers taking 100mg or acebo. Testosterone levels were 16.4% higher and Cortisol levels were 32.3% lower in the LJ100 compared to Placebo.*
LJ100 IN PHYSICAL FUNCTION & MUSCLE STRENGTH IN MIDDLE AGE WOMEN: 4th Asia Pacific Conference on Exercise and Sport Science 2009: Significant improvement compared to placebo in bench press (67% vs. 58%), leg press (33% vs. 27%), balance (0.39 vs 0.31), hand grip strength (0.71 vs. 0.43), muscular endurance (0.64 vs. 0.35), rectus femurs cross sectional (0.59 vs. 0.31)*
Randomized clinical trials on Evidence Based Complimentary and Alternative Medicine (2012): 109 healthy men taking 300mg of Lj100 or placebo for 12 weeks. Lj100 group showed improvement in Quality of Life, Physical and Vitality domain, decrease SHBG, fat mass loss was observed in overweight subjects*
Effect of LJ100 on stress hormones and psychological mood state on Journal of International Society of Sport Medicine (2013): 63 subjects (32 men, 32 women) with moderate stress taking 20mg of Lj100 or placebo for 4 weeks. Lj100 showed improved mood state, reduced cortisol exposure (−16%) and increased testosterone status (+37%).*
LJ100 for Physically Active Male and Female Seniors on Phytotherapy Research (2013): 25 physically active elders (13 men, 12 women), taking 400mg of Lj100 for 4 weeks. Increase total testosterone (15.1% in men, 48.6% in women), free testosterone (61.1% in men, 122% in women), muscular force (16.6% in men), decrease SHBG (20.8% in women)*
For a further reference relative testosterone's function in the human body please see the related clinical studies cited therein: Khaw, K.-T. Circulation, Dec. 4, 2007; vol 116, Kay-Tee Khaw, MBBCh, professor of clinical gerontology, University of Cambridge, England. Robert Davis, MD, professor of urology, University of Rochester, N.Y.