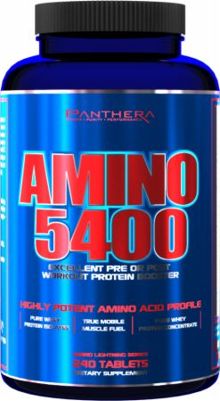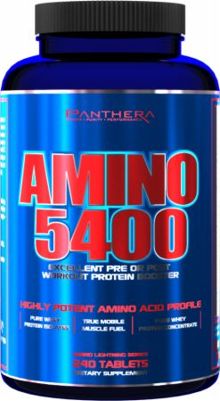 train hard and supplement smart – Panthera smart
EXCELLENT
PRE OR POST
WORKOUT
PROTEIN
BOOSTER
HIGHLY POTENT
AMINO ACID PROFILE
PURE WHEY PROTEIN ISOLATES
PURE WHEY PROTEIN CONCENTRATE
Each serving of Amino 5400 contains:
Amino 5400 is a moderately fast releasing amino acid supplement packed with peptide bonded amino acids. Our amino acids are derived exclusively from pure 100% American diary Whey Protein Concentrate (WPC-80) and Whey Protein Isolate (WPI). Each serving provides nearly the same amount of protein found in one whole egg. This is pure WPC 80 protein powder pounded into tablet form--not a blend of cheaper proteins--collagen, soy with whey. Convenient, rapidly digestible and packed with lean muscle sparing and muscle building amino acids.
High Quality Full Form
& Peptide Bonded Amino Acids
This product will fuel lean muscle recovery time from resistance training if used in conjunction with a balanced whole foods diet and a healthy lifestyle.*

Do not drink or drug, get 8 hours of rest, train hard and supplement smart--Panthera smart.
TRUE MOBILE MUSCLE FUEL