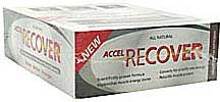 Pacific Health Accel Recover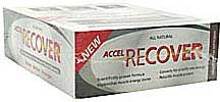 Pacific Health Accel Recover
1st Bar Engineered for Maximum Muscle Recovery
Scientifically-proven formula
replenishes muscle energy stores
Converts fat directly into energy
Rebuilds muscle protein
We've Raised the Bar on Bars
New Accel RECOVER™ was developed by leading exercise physiologists whose cutting-edge research defined the science of muscle recovery.All-natural Accel RECOVER is the most exciting advance in bar nutrition in 30 years with a break-through formula that incorporates:
Unique blend of three carbohydrates to rapidly and completely replenish depleted muscle glycogen stores.
Proteins enriched with glutamine, arginine and leucine to drive the repair and rebuilding of muscle protein and the rapid transport of nutrients to muscles.
Medium-chain triglycerides, the only type of fat that rapidly converts into energy to speed muscle recovery. No other bar uses MCT's as the primary fat source. Conventional fats used by other bars actually inhibit muscle recovery.
Antioxidants to protect your muscles from free radical damage.
And we didn't forget about taste. Chocolate Peanut-Butter Accel RECOVER may be the best-tasting bar you have ever eaten, and that could be the biggest breakthrough of all.
"One again PacificHealth Labs advances the science of muscle recovery."Dave Scott"Accel RECOVER is my new best friend."Leanda Cave"The nutritional formula of Accel RECOVER is brilliant."Pip Taylor* These statements have not been evaluated by the Food and Drug Administration. This product is not intended to diagnose, treat, cure, or prevent any disease.