Warning: This product is not currently available at any store.
Click the button above and PricePlow will email you when the first store has it in stock!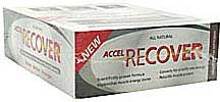 Pacific Health Accel Recover
Pacifichealth Laboratories Accel Recover Bar | Now on Sale at

New Accel Recover was developed by leading exercise physiologist whosecutting edge research defined the science of muscle recovery.All-natural Accel Recover is the most exciting advance in bar nutritionin 30 years with a break-through formula that incorporates:

Unique blendof three carbohydrates to rapidly and completely replenish depletedmuscle glycogen stores; Proteins enriched with glutamine, arginine andleucine to drive the repair and rebuilding of muscle protein and therapid transport of nutrients to muscles; Medium-chain triglyceridesm theonly type of fat that rapidly converts into energy to speed musclerecovery, no other bar uses MCT's as the primary fat source,conventional fats used by other bars actually inhibit muscle recovery;

Antioxidants to protect your muscles from free radical damage. And wedidn't forget about taste. Chocolate Peanut Butter Accel Recover may bethe best tasting bar you have ever eaten, and that could be the biggestbreakthrough of all.