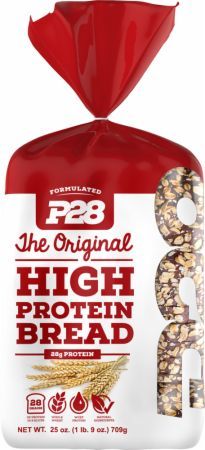 P28 100% Whole Wheat High Protein Bread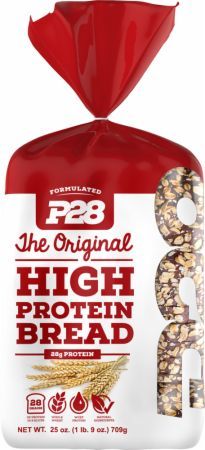 P28 100% Whole Wheat High Protein Bread
Important Shipping Information
100% Whole Wheat High Protein Bread will be shipped separately from the manufacturer and may take up to 5 business days for delivery. Trust us - it's worth the wait!
Product Description
For people who are living an active lifestyle, training for sports, building muscle mass, or trying to lose weight, plain bread or the regular whole-wheat variety just isn't good enough. The body needs more than simple carbs that bulk up most breads and shoot up your glucose level. That is why P28 "The Original High Protein Bread" was created.

Two slices of P28 Bread gives you 28 grams of high-grade protein from whey isolate. P28 is a source of fiber, and also contains heart-friendly omega-3 fatty acids, and key vitamins and minerals without any cholesterol, saturated fat, or trans fat. It's the smart choice for diabetics and bariatric patients, for vegetarians looking for better sources of protein, for children who need essential amino acids that promote growth, and for anyone who wants to age healthily. All that and it tastes delicious too!
KEY BENEFITS
The Facts!
28 Grams of Protein

- Per 2 slices

Made with Natural Ingredients

No

trans fat

No

Artificial preservatives

No

high fructose corn syrup

No

artifical flavors or colors

Tastes Great!

Made with

Whey Isolate

, the highest quality source of protein
Made with

100% Whole Wheat

, Oat, Flax Seed, Sunflower Seed and Millet

7 Grams

of

Whole Grains

per servings
A rich source of the

8 essential Amino Acids

your
Source of

Fiber

Contains

Omega 3's
F.A.Q.
What is the shelf life of the P28 Bread?
From the time you receive your product, you will have anywhere from 10-14 days of shelf life if stored at normal room temperature.

However, if you choose to freeze your bread, it will last up to 6 months!

How do I store the P28 Bread?
From the time you receive your P28 High Protein Bread, you will have around 10-14 days of shelf life at normal room temperature. We suggest freezing any unused loaves. Bread that is put in the freezer will last up to 6 months!

Please do not refrigerate your wraps, and make sure to keep it away from any warm temperature areas.