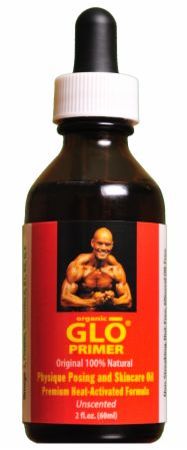 Organic GLO Primer Physique Posing Oil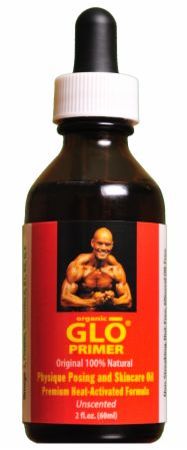 Organic GLO Primer Physique Posing Oil
"Organic, chemical-free GLO GEL PRIMER is the critical step before applying any stage color or tanning product. It will ensure glowing, perfect skin. It's revolutionary. It's Awesome!"
—Erik Alstrup, Drug-Free Pro Bodybuilder, Overall Champion-Canadian
Bodybuilding Championships; Multi-Sport Athlete
Heat-Activated, Nutrient-Rich, All-Natural Organic GLO Physique Posing Oil, Primer, and Gel are scientifically formulated topcoats that perfect any type of tan color. Choose the stage prep that works best for you. Easy to apply, easy to remove. No more Cream-Bronzer Stains. No need for gloves. No need to re-apply backstage - simply re-swipe to heat-reactivate your natural, non-greasy, streak-free glow. One 2 oz. bottle can last for 4 shows or more! For smooth, healthy-looking skin, mix 4 full droppers of any product into your daily moisturizer. Protect you skin from harsh chemicals and skin-aging dehydration cycles with Organic GLO!
ORGANIC GLO Primer - This unscented additive is simply revolutionary! When used daily as well as during stage preparation, this innovative multi-use product will 'prime' any skin type all year round. (1) Simply mix 1 to 4 full droppers of PRIMER into your everyday skin moisturizer to 'boost' its nutrient content and moisturizing effect. (2) Before applying tanning product to your skin for a show, swipe PRIMER directly onto your freshly dried skin after a shower. Allow the PRIMER to 'set' for 1 minute, locking in your skin's natural moisture, then swipe on your cream or spray-on color. (3) For an efficient, cost-effective, revolutionary one-step process of simultaneous color and shine, thoroughly mix 4 full droppers of PRIMER into one full tub of your favorite cream tanner or bronzer, then swipe on and be amazed at immediate natural sheen. To regain your glow after staging, simply re-swipe to heat-reactivate the shine! To optimize your stage presence, apply ORGANIC GLO POSING OIL or ORGANIC GLO GEL as topcoats for a winning tan.
Put your best skin forward with ORGANIC GLO PRIMER!
All ORGANIC GLO products are unique, incredibly effective, heat-activated, 100% natural, and nutrient-dense. They (i) provide a healthy base that 'primes' the skin, (ii) shield the skin from potentially harsh or harmful chemicals found in most cream and spray-on tanning products, and (iii) hold on to color, ensuring a bright, natural, streak-free, long-lasting hue.
Effective: Gives skin a non-greasy, natural, muscle/contour-defining glow
Versatile: Works on any type of tan
Non-Streaking: Smooth, even, 'non-distracting' skin tone and hue
Easy-to-Apply: Unique glass dropper and simple swiping action
Convenient: Easily wipes off with wet-naps, towels, soap and water
Cost-Effective: Repeated re-application sessions not necessary
Long-Lasting: Works longer than traditional oils [2 oz. (60ml) = 4 to 6 shows]
Resilient: Optimal glow in light, but shines through in dim light
Heat-Activated I: Major activation occurs with swiping (friction)
Heat-Activated II: Glow maximized after warm-up is complete
Does Not Clog Pores: Light, natural oils and gels allow skin to 'breathe'
Long Shelf Life: Stored in protective, light-resistant, opaque glass
All-Natural: No synthetics, no fast-absorbing mineral oil
Organic: Made with pure, certified organic essential oils and plant extracts
Hypo-Allergenic: 100% Nut-free, seed-free, gluten-free
Non-Toxic: 100% biodegradable, food- and cosmetics-grade oils and gels
Eco-safe: Ingredients are GRAS (Generally Recognized as Safe)
Promotes Skin Health: Rich in Omega-3, Vitamins A, B1, B2, C, E
Great Tropical Scent: No embarrassing 'chemical smell'
Earth-Friendly: Sold in entirely recyclable packaging
Stable: Dispensed via glass pipette to help maintain nutrient survival
Made with Care in USA: Scientifically-created; industry-endorsed