Quick Links to Best Prices Price History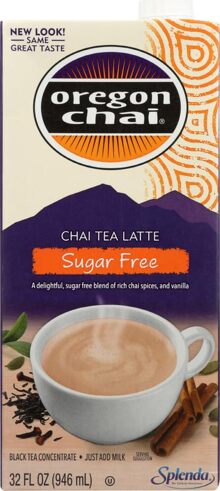 Oregon Chai Sugar-Free Original Chai Tea Latte Concentrate
Chai (pronounced "eye" with a "ch" in front) is a blend of black tea, honey,vanilla, spices and milk, prepared like a latte. Oregon Chai is one company'sinterpretation of chai. An ancient recipe meets the American palate in a sweet,spicy, soothing Oregon Chai Tea Latte in an easy-to-prepare tea concentrate.
Sugar-Free Oregon Chai Tea Latte Concentrate is easy to prepare. When mixedwith equal parts of milk or soy, this latte concentrate creates a sweet, spicy,creamy beverage that you can enjoy morning, noon or night. To drink hot, heatmixture using stove top or microwave. To drink cold, pour the mixture over ice.
A Sugar-Free Original Chai Tea Latte has approximately 30-35 mg of caffeineper serving (same as a lightly brewed cup of black tea). Sweetened with Splenda.