Warning: This product is not currently available at any store.
Click the button above and PricePlow will email you when the first store has it in stock!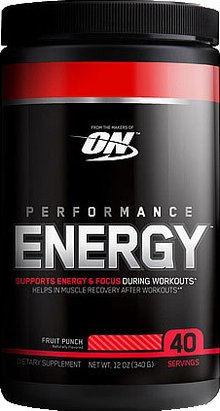 Optimum Nutrition Performance Energy
TO SUPPORT HIGH-INTENSITY ENERGY
SUPPORTS ENERGY & FOCUS DURING WORKOUTS
CAFFEINE COMPARABLE TO A CUP OF COFFEE
5 GRAMS OF AMINO ACIDS
HELPS WITH MUSCLE RECOVERY AFTER WORKOUTS
THE NATURAL HEALTH SUPPLEMENT
Optimum Nutrition presents Performance energy, a powerful energizing supplement that supports intense energy and focus during workouts and fast recovery following exercise. With an advanced blend of caffeine, beta-alanine, branched-chain amino acids and more, each scoop of Performance Energy can energize your fitness and daily activities all day long without the crash or obnoxious jitters. The sugar free, artificial color free, and articifial flavor free formula is available in delicious fruit punch flavor with just 10 calories per scoop.
Each serving of Performance Energy provides about the same amount of caffeine as a cup of coffee. Caffeine stimulates the central nervous system to increase energy and metabolism. Caffeine intake increases exercise performance capacity and breakdown of fat stores.[1] Caffeine intake increases power output, time to exhaustion, and oxygen utilization for improved anaerobic performance.[2]
Performance Energy also provides approximately 5 grams of amino acids per scoop to suppot muscle recovery and maintenance. Branched-chain amino acids activate key enzymes in protein synthesis after physical exercise, improving muscle building and recovery.[3] Leucine, for example, has been shown to enhance recovery of skeletal muscle following exercise.[4]
Performance Energy can be enjoyed any time of a day as a substitue for cofee, tea, and soft drinks for a low-calorie option to fuel your workouts and keep your body energized.
References [+]
References [-]
[1] Costill D, Dalsky G, Fink W. Effects of Caffeine Ingestion on Metabolism and Exercise Performance. Medicine and Science in Sports. 10:3. (1978): 155-158.
[2] Bell D, Jacobs I, Ellerington K. Effect of Caffeine and Ephedrine Ingestion on Anaerobic Exercise Performance. Medicine and Science in Sports and Exercise. 33:8. (2001): 1399-1403.
[3] Blomstrand E, et al. Branched-Chain Amino Acids Activate Key Enzymes in Protein Synthesis After Physical Exercise. The Journal of Nutrition. 136:1. (2006): 2695-2735.
[4] Anthony C, et al. Leucine Supplementation Enhances Skeletal Muscle Recovery in Rats Following Exercise. The Journal of Nutrition. 129:6. (1999): 1102-1106.