Warning: This product is not currently available at any store.
Click the button above and PricePlow will email you when the first store has it in stock!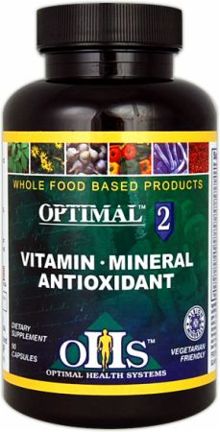 Optimal Health Systems Vitamin-Mineral-Antioxidant
Optimal 2 : Vitamin-Mineral-Antioxidiant
Containing only whole food vitamins, chelated minerals, along with a potent blend of antioxidants to support optimal functioning.* This powerful formula redefines and provides nutrients that every individual needs for optimal health in the forms necessary to allow great absorption and bio-availability to the body.*
Research suggests that current farming methods and ways of food production and preparation deplete our foods of life-generating vitamins and minerals. Stress, pollution and other lifestyle and environmental factors further deplete the nutrients needed for health.
Vitamins in the whole food form contain what is needed for those vitamins to be broken down and used in the body.
Reading the Optimal 2 label, you won't see chemical names, but will find instead that every vitamin is from a whole food source. Amino acid chelated minerals exactly mimic the minerals found in foods, and are the only minerals used in Optimal 2 (and every other OHS product).* Minerals in this form are readily absorbed.*
Optimal 2 provides the body with vital nutrients in a highly absorbable and useable form.* This remarkable formula contains no synthetic vitamins. Instead, it includes a full spectrum of vitamins obtained directly from whole foods. Optimal 2 also contains 12 essential minerals in their amino acid chelated form. In addition, Optimal 2 obtains a blend of antioxidants including grape seed, grape skin, pine bark and SOD precursors - the building blocks that support the body's ability to produce more of its own natural antioxidants.* To ensure these vital nutrients are delivered for optimal use by the body, Optimal 2 contains our exclusive Opti-Blend Delivery System - a unique blend of enzymes and minerals to promote optimal nutrient delivery.*