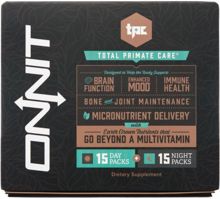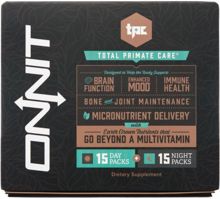 TPC is a complete re-imagining of the daily "all-in-one" supplement. Containing many of our proprietary flagship formulas to help support brain, mood, energy, bones, immune system, and joint health, taking TPC will make you feel like you have superhero tights underneath your daily attire.*
GET ONNIT IN UNDER 30 SECONDS PER DAY
Time is our most precious resource. We want a strong immune system, clearer thinking, more energy, optimal mood, support for your bones and joints, we want it all. But the last thing we need is more things to take up our time. You can bring TPC with you wherever you go: Just rip it, take it, and forget about it. In less than 30 seconds per day, you can rest assured you are optimizing yourself.*
Maximum Results, with Minimum Effort*
It is a simple equation: You want the maximum results with the minimum effort. TPC is the perfect solution.† Most "all-in-one" supplements just don't cut it. They aren't targeting specific systems, and the inclusion of vitamins and minerals are often at bare minimum levels. That is why recent reports have come out saying 'multivitamins don't work'.
If the recommended daily allowances were all we needed to perform at our best, everyone would be healthy and thriving. So we re-imagined the all-in-one daily supplement. We put together all of our best targeted formulas in a day pack and a night pack to create a tide of nourishment, helping the most important aspects of your well being.
WHAT'S IN TPC?
Alpha BRAIN
supplies building blocks for neurotransmitters and sets a base level of cognitive acuity*
Shroom TECH Sport
offers valuable adaptogens, Vitamin B12 as methylcobalamin, and cellular energy through the production of ATP*
Stron BONE
helps to nourish bones and joints for an active lifestyle*
New MOOD
sets you up for a peaceful rest with our serotonin supporting and daily stress nutrients.
ViruTech
contains Vitamin C, Selenium, Zinc and LLysine to further assist immune and antioxidant function overnight*
Coral Calcium
is packed with essential minerals for bone health.*
IN BOTH PACKS
Shroom TECH Immune
contains a potent blend of nutritional mushrooms, herbs, and turmeric extract to help support the innate immune system*
Krill Oil
is packed with EPA & DHA and supplies essential fatty acids from a clean, sustainable source that has the added bonus of containing the powerful carotenoid, astaxanthin*
Spirulina & Chlorella
are two of nature's nutrient dense green foods
SAVE MONEY WHEN YOU BUY TPC
TPC 30 Day Supply
- Cost Per Day -
$6.51
Individual Supplements
$3.67
Total Primate Care
WHY TOTAL PRIMATE CARE?
Human beings are so superior to our nearest species relative, we often forget we are animals too. The human primate has a body and brain with a very complicated set of nutritional needs to function at an optimal level. Total Primate Care takes the best of the Onnit formulas and combines them with vital nutrients not easily attained in food.*
Onnit TPC Pro Tips:
These vitamin packs are designed to set the daily foundation for your healthy supplementation. Ideal for both travel and daily home use, the effects of each of our formulas included are not designed to be acute, but to maintain overall vitality.*
Many of us like the acute effects of the Onnit formulas, and taking these vitamin packs should not preclude us from targeting these benefits. For example, if you generally take 2 or even three Alpha BRAIN capsules in the morning, then feel free to take the pack and one less pill from your usual dose. In addition, because of the earth grown nutrient basis for many of our ingredients in the pack, taking a second pack with food can help deliver even more nourishment and support, assisting the body to create a higher immediate sense of optimization.*