Warning: This product is not currently available at any store.
Click the button above and PricePlow will email you when the first store has it in stock!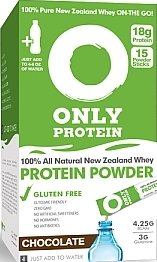 Only Protein O Protein Sticks
100% Pure New Zealand Whey ON-THE-GO!
Just add to 4-6 oz. of water
18 g Protein
15 Powder Sticks
Gluten Free
Glycemic Friendly
Zero GMO
No Artificial Sweeteners
No Hormones
No Antibiotics
UNIQUE PROTEIN BLEND
Protein is necessary to build muscle and rebuild every cell in your body. The more muscle you have, the higher your metabolism. Unfortunately in today's diet many of us do not get enough high quality protein, fber, and enzymes to help you achieve a healthy and fit body, along with proper diet and exercise.
MAXIMUM ABSORPTION
ONLY PROTEIN also contains unulin, a prebiotic that increases your friendly bacteria. Many people have poor protein metabolism. ONLY PROTEIN has added Protease, the enzyme that breaks protein down, this is to ensure maximum absorption, and for those that are lactose intolerant, the enzyme Lactase has been added.
HIGH QUALITY FIBERS
Many products on the market contain inexpensive cellulose fibers, which cannot be broken down. Over time cellulose fibers actually inhibit fiber absorption. ONLY PROTEIN contains fibers that can be eliminated without build up.
HEALTHY INGREDIENTS
ONLY PROTEIN contains no artificial sweeteners like aspartame, acesulfame potassium (ace-K), or sucralose. ONLY PROTEIN has no hydrolyzed protein and no cellulose fibers. ONLY PROTEIN contains branch chain amino acids including, Isoleucine, Leucine and Valine.Whether you are using ONLY PROTEIN for your pre-workout, post-workout, or helping to protect muscle throughout the night, ONLY PROTEIN has been formulated for a quick muscle feed as well as the extended muscle fee. We have also added cellulose free fiber to help with your daily fiber intake and help you feel full. Protease has been added to help with protein metabolism and Lactase for those who are lactose intolerant. ONLY PROTEIN is a great way to start and finish your day, with low calories, carbohydrates and sugars. Mix with 4-6 oz. of water, shake well until completely dissolved. With ONLY PROTEIN you can go anywhere, NO MEASURING, NO MESS, JUST RIP, MIX, ENJOY!!
No Soy
No Gluten
No Pesticides
No Sucralose
No Sugar Added
No Sugar Alcohols
No Chemical Additives
No Hydrolized Proteins