Quick Links to Best Prices Price History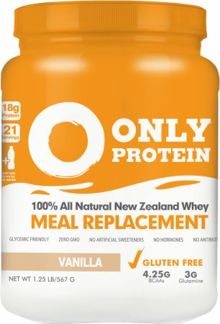 Only Protein 100% All Natural New Zealand Whey Meal Replacement
100% Pure New Zealand Whey ON-THE-GO!
Just add to 4-6 oz. of water
18 g Protein
15 Powder Sticks
Gluten Free
Glycemic Friendly
Zero GMO
No Artificial Sweeteners
No Hormones
No Antibiotics
BALANCED NUTRITION
It is common knowledge that it takes good nutrition and exercise to maintain or lose weight. ONLY PROTEIN meal replacement is a unique formula that is designed to help you with balanced nutrition. ONLY PROTEIN is a highly bio-available meal replacement with protein, vitamins, minerals, and fiber, everything your body needs. We have also added South African Hoodia, Guarana, Carnatime, and Garcina Cambogia which research has shown to support metabolism of fat loss and lean muscle synthesis.
BREAKFAST IN A STICK
Breakfast is the most important meal of the day and yet many skip it. Eating breakfast gets the metabolism going for the day. For those that feel there is no time, or are not breakfast eaters, ONLY PROTEIN is a great way to get your day started. Grab a water bottle, pour and shake and you are ready to go.
HIGH QUALITY INGREDIENTS
We only use the highest quality protein and ingredients in our products. ONLY PROTEIN contains no fillers, hydrogenated oils, hydrolyzed protein, or artificial sweeteners like aspartame, acesulfame potassium (ace-K), and sucralose. To maximize absorption we have added 500 mg of protease to ensure proper protein metabolism and 500 mg of lactase for those that are lactose intolerant. Cellulose free fiber have been added to help you meet your daily fiber needs.
Quick muscle feed
Cellulose-free fiber
HOODIA + CAMBOGIA
No Artificial Sweeteners
Highly Bio-Available
For those on the Go!
ONLY PROTEIN is a meal replacement with protein and nutrients for balanced nutrition. Research shows that skipping meals causes us to gain weight. ONLY PROTEIN is fast and easy, just rip and pour and you have a meal (No more skipping meals). Whether you are at the office, traveling or exercising, you can get what your body needs with just one stick. ONLY PROTEIN was formulated for a quick muscle feed, as well as the extended muscle feed that is great for your pre-workout, post-workout or helping to protect your muscles throughout the night. We have also added cellulose-free fiber to help with your daily fiber intake and help you feel full. Protease has been added to help with protein metabolism and Lactose for those who are lactose intolerant. ONLY PROTEIN is a great way to start and finish your day.
No Soy
No Gluten
No Pesticides
No Sucralose
No Sugar Added
No Sugar Alcohols
No Chemical Additives
No Hydrolized Proteins