Quick Links to Our Prices
How does this work and how do stores get listed? See our disclosure below to learn more. Price History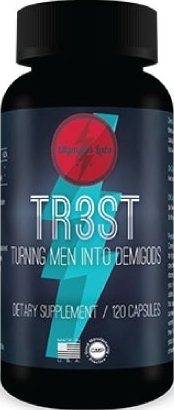 Product Description
TR3ST by Olympus UK 120ct


This is the purest, strongest, most potent, largest quantity Trestolone Available.

TR3ST by Olympus UK is rated as a top prohormone here at Nutriverse and can be used for both bulking and cutting cycles. Read Below to learn why.

TR3ST by Olympus UK was formulated as being a catalyst to increasing lean size, hardening muscles, and attaining strength that comparable of a demigod's.

TR3ST by Olympus UKIf you are looking for extreme muscle and strength gains – look no further, as Olympus UK is proud to present TR3ST. It is specifically engineered as a catalyst, increasing muscle size and strength to that of a demigod.It features 120 capsules, each capsule containing 25mg of Trestolone; an unheard feat in the prohormone world. TR3ST gives you 3000mg of Trestolone per bottle, at an unbeatable value!Trestolone is an action packed ingredient engineered to sculpt your body to the level of a demigod's. It's the ultimate strength building prohormone! It's made in the USA, GMP (Good Manufacturing Practice) certified, and pharmaceutical grade.We, at Olympus UK, have gone not only the extra mile to bring you the finest grade raw product but have formulated it in a manner insuring quality and effectiveness – fit for Hercules, a paragon of masculinity among gods, to give you the same extraordinary strength, ingenuity, and simple dominant physical prowess that will make your inner beast embody your once simpleton self.Trestolone is a new potent compound and we have captured its essence to create a product that not only surpasses plateaus but also crushes them.TR3ST will provide:Extreme Strength Gains Extreme Muscle and Size gains Crush Plateaus Rapid Increases in Strength Fuller Muscles What the he** are you waiting for? GET IT NOW.

Olympus UK

In the hazy mists of time, the Greeks believed that Olympus was the domain of the reigning gods. High above the clouds, in their abode, they dictated the highest peaks of the heavens to the darkest depths of hell. Olympus was not shaken by winds nor ever wet with rain, nor did snow fall upon it, but the air was outspread clear and cloudless, and over it hovered a radiant whiteness. The summit of Mount Olympus lived and breathed as the meeting place of the gods, strictly restricted to mere mortals. Our products are forged from the mighty thresholds of Olympus from harnessing Zeus's galvanizing thunderbolts to insure the utmost fortifying ingredients, hammered with Poseidon's earthshaking trident to maximize brute strength and fused amongst the blistering embers of Hades dark underworld to give us the ultimate prohormones, unknown to man before. Olympus UK is proud to present a line of products that will turn men into demigods.

Why Does TR3ST blow away all those other "Trestolone" Products?

As one can clearly see, never has there been a more pure and potent Trestolone product formulated up to date.

Olympus UK is here to finally eradicate its predecessors which used cheap marketing tricks and ideology to make their products seem presentable.

With Olympus UK in the picture now, all that is futile. A new dawn is born, where man can forge his own destiny.

With 3000 mg of pure Trestolone per bottle, no longer does one need multiple bottles of Trestolone to get noticeable results.

Directions: As an adult dietary supplement, take 1 capsule three times daily with meals. Do not exceed more than 4 capsules in a 24 hour period of time. Take TR3ST for up to four weeks maximum.

On Cycle Guidelines: TR3ST must be taken with a proper liver care supplement for its detoxification effects. We recommend taking AR1MACARE PRO by Olympus UK

Off Cycle Guidelines: After four weeks of usage, TR3ST must be followed up with a proper post cycle therapy supplement to help normalize testosterone levels. We recommend taking SUP3R PCT by Olympus UK

Trestolone (17β-hydroxy-7α-methylestr-4-en-3-one)

Trestolone also known as Methyl nor testosterone acetate or MENT, TR3ST, and Trestobol, is a revolutionary new prohormone ingredient introduced to the prohormone market just recently and has already accumulated a lot of positive hype from users.

Trestolone is neither a pure bulking prohormone nor a pure cutting prohormone. Its purpose is to keep overall body energy and libido high and serve as the base of harsher prohormone ingredients.

Users report that strength and energy accumulation are some of the best results of running Trestolone as a standalone. It is very popular for users to run anywhere between 20-30mg of Trestolone 30-45 minutes prior to their workouts similar to the effect that a pre-workout has due to the increases of strength and energy.

Trestolone is a wet compound, gains will be extremely visible and this fact also helps with the elimination of dry joints. Users have reported to also see great improvement in libido as well. The very fact that Trestolone carries a high androgenicty ratio will make users feel extremely great on cycle.

Q. How should I run Trestolone?

Trestolone cycles are typically 4 weeks in length. Trestolone is usually ran anywhere from 3-4 weeks (21-30) days, and dosed around 50-100mg per day.

Beginner Protocol:

We recommend that you ascess your tolerance by starting off with 50mg per day, once upon rising and once before sleeping to ensure best results.

Advanced Protocol:

Weeks 1-4:

AM:25mg

PWO:25-50mg

PM:25mg

Totals:75-100mg

Please read your nutritional label to see exactly how many mg of trestolone is contained in each capsule, as it varies from product to product.

Q. Do I need to take On Cycle Support with Trestolone?

A. Yes, any prohormone that you take will affect your liver, as a result, liver support/on cycle therapy, will detoxify your liver properly and ensure that there are no side effects. We recommend takingAR1MACARE PRO by Olympus UK.

Do I need Post Cycle Therapy after I take Trestolone?

Yes, Post cycle therapy is, as always, one of the most important parts of any cycle.

If one does not work towards bringing their body back to its homeostasis balance the gains will be lost (with the addition of health risks, making using this product pointless) and the chance for side effects also increases significantly.

Once you stop taking a pro hormone your body goes through a change of hormones and puts stress on your endocrine system.

With a properly planned PCT (Post Cycle Therapy) we assist our body with easing our hormonal levels back into their normal function.

Failure to follow a properly planned PCT can result in undesirable side effects such as:

•Gynecomastia

•Anxiety

•Depression

•Muscle Loss/Fat Gain

•Sexual Side Effects

We recommend using SUP3R PCT by Olympus UK for post cycle therapy.

TR3ST Ingredients:

Percent Daily Values are based on a 2,000 calorie diet.
Percent Daily Values are not established.




TR3ST WARNINGS

The minimum age to use this product is 21 years old. You shouldn't use any prohormones if you're under the age of 21 as prohormones can affect your growth plates and cause many other complications.
Women should not use this prohormone at any time.

People with high blood pressure, high cholesterol, or people that are taking any prescriptions, and or have any other serious medical condition should not use prohormones. Please read the warnings and directions that are posted on the label of this bottle carefully.

Nutriverse does not endorse any of the statements made by this manufacturer, and by buying you consent that you are at least 21 years old.

Product Features:
•Size
•Strength
•Lean Mass
•Huge Gains


Keywords: Cutting Prohormone, Bulking Prohormone TR3ST, Olympus UK, Prohormones
While we work to ensure that product information is correct, on occasion manufacturers may alter their ingredient lists. Actual product packaging and materials may contain more and/or different information than that shown on our Web site. We recommend that you do not solely rely on the information presented and that you always read labels, warnings, and directions before using or consuming a product. For additional information about a product, please contact the manufacturer. Content on this site is for reference purposes and is not intended to substitute for advice given by a physician, pharmacist, or other licensed health-care professional. You should not use this information as self-diagnosis or for treating a health problem or disease. Contact your health-care provider immediately if you suspect that you have a medical problem. Information and statements regarding dietary supplements have not been evaluated by the Food and Drug Administration and are not intended to diagnose, treat, cure, or prevent any disease or health condition. Nutriverse assumes no liability for inaccuracies or misstatements about products.