Quick Links to Best Prices Price History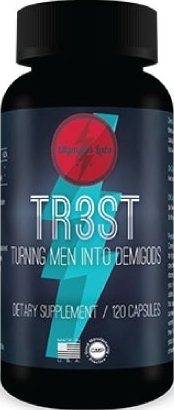 TR3ST by Olympus Labs can help you increase in size and strength quickly and efficiently.

Supplement Facts
Serving Size 1 Capsule
Servings per Contgainer: 120

Amount per Serving

17B-hydroxy-7a-methylestr-4-en-3-one – 25mg

Other Ingredients: Rice Flour, Magnesium Stearate, Gelatin.

Directions: As an adult dietary supplement, take 1 capsule three times daily with meals. Do not exceed more than 4 capsules in a 24 hour period of time. Take TR3ST for up to four weeks maximum.

On Cycle Guidelines: TR3ST must be taken with a proper liver care supplement for its detoxification effects.

Off Cycle Guidelines: After four weeks of usage, TR3ST must be followed up with a proper post cycle therapy supplement to help normalize testosterone levels.

Warning: The minimum age to use this product is 21 years old. You shouldn't use any prohormones if you're under the age of 21 as prohormones can affect your growth plates and cause many other complications. Women should not use this prohormone at any time. People with high blood pressure, high cholesterol, or people that are taking any prescriptions, and or have any other serious medical condition should not use prohormones. Please read the warnings and directions that are posted on the label of this bottle carefully.

These statements have not been evaluated by the FDA. These products are not intended to diagnose, treat, cure, or prevent any disease.

Start building muscle size and strength with TR3ST by Olympus Labs & other Prohormone Supplements at i-Supplements.com.