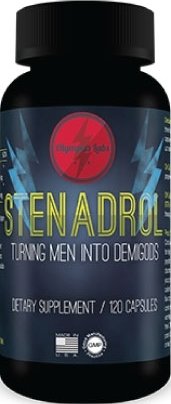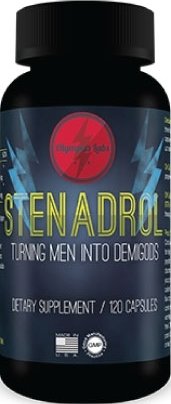 ALL SALES ARE FINAL!
This is the purest, strongest, most potent, bulking prohormone available on the prohormone market today!
Stenadrol combines two powerful forces known as dimethandrostenol and methylstenbolone and forges them to create the most effective dosed bulking prohormone EVER!
Stenadrol by Olympus Labs
If you are looking for extreme size, muscle, and strength gains – look no further, as Olympus Labs is proud to present
STENADROL
. It is specifically engineered as a catalyst, increasing muscle size and strength to that of a demigod. It features 120 capsules, each capsule containing 5mg of Methylstenbolone and 4mg of Dimethandrostenol; an unheard feat in the prohormone world. 
STENADROL
gives you 600mg of the Methylstenbolone and 480mg of Dimethandrostenol per bottle, at an unbeatable value! Methylstenbolone and Dimethandrostenol are two action packed bulking prohormones engineered to sculpt your body to the level of a demigod's. It's the ultimate bulking prohormone combination. It's made in the USA, GMP (Good Manufacturing Practice) certified, and pharmaceutical grade. We, at Olympus Labs, have gone not only the extra mile to bring you the finest grade raw product but have formulated it in a manner insuring quality and effectiveness – fit for Hercules, a paragon of masculinity among gods, to give you the same extraordinary strength, ingenuity, and simple dominant physical prowess that will make your inner beast embody your once simpleton self. Methylstenbolone and Dimethandrostenol are new and potent compounds, we have captured their essence to create a product that not only surpasses plateaus but also crushes them. 
STENADROL will provide:Extreme Mass gainsExtreme Size gainsExtreme Strength gains Extreme Bulking Fuller Muscles What the he** are you waiting for? GET IT NOW.
Bridge the Gap between mankind and becoming an Immortal.
Olympus Labs
In the hazy mists of time, the Greeks believed that Olympus was the domain of the reigning gods. High above the clouds, in their abode, they dictated the highest peaks of the heavens to the darkest depths of hell. Olympus was not shaken by winds nor ever wet with rain, nor did snow fall upon it, but the air was outspread clear and cloudless, and over it hovered a radiant whiteness. The summit of Mount Olympus lived and breathed as the meeting place of the gods, strictly restricted to mere mortals. Our products are forged from the mighty thresholds of Olympus from harnessing Zeus's galvanizing thunderbolts to insure the utmost fortifying ingredients, hammered with Poseidon's earthshaking trident to maximize brute strength and fused amongst the blistering embers of Hades dark underworld to give us the ultimate prohormones, unknown to man before. Olympus Labs is proud to present a line of products that will turn men into demigods.