Warning: This product is not currently available at any store.
Click the button above and PricePlow will email you when the first store has it in stock!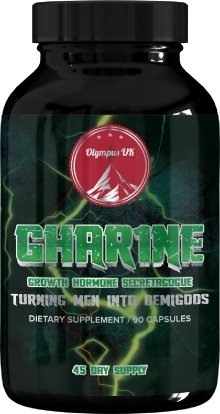 Features:
Growth Hormone Secretagogue
Increased HGH and IGF-1 Levels
Recomping Agent
Increased Fat Oxidation
Increased Lean Muscle Mass
Tighter Skin
Joint Repair
GHAR1NE BY OLYMPUS UK
If you are looking for extreme fat oxidation, increased GH and IGF-1 levels, and lean muscle mass gains – look no further, as OLYMPUS UK is proud to present GHAR1NE. It is specifically engineered as a catalyst, increasing muscle size and strength to that of a demigod. It features 90 capsules, each capsule containing 10mg of GHAR1NE; an unheard of feat in the Growth Hormone Secretagogue boosting world. GHAR1NE gives you 900mg of GHAR1NE per bottle, at an unbeatable value! GHAR1NEis an action packed ingredient engineered to sculpt your body to the level of a demigod's. It's the ultimate lean muscle mass, GH and IGF-1 level boosting, and fat oxidation providing Growth Hormone Secretagogue ! At Olympus UK we believe in bringing our customers the utmost level of value and have done so with GHAR1NE as it contains a 45 DAY SUPPLY of GHAR1NE.
We, at OLYMPUS UK, have gone not only the extra mile to bring you the finest grade raw product but have formulated it in a manner insuring quality and effectiveness – fit for Hercules, a paragon of masculinity among gods, to give you the same extraordinary strength, ingenuity, and simple dominant physical prowess that will make your inner beast embody your once simpleton self.
MK 677 (Ibutamoren) – is a non-peptidic, orally active and selective agonist of the growth hormone secretagogue receptor. MK 677 mimics the action of ghrelin in the stomach. As a result this raises growth hormone and IGF-1 levels, but does not affect cortisol levels. Human studies have shown it to increase both muscle mass and bone mineral density. At 25 mg daily, Ibutamoren has been shown, in humans, to increase IGF-1 levels 60% in 6 weeks. A 72% increase in IGF-1 levels was seen after 12 months. MK 677 is non-hormonal, and therefore requires no PCT after cycle is over. MK 677 can best be utilized in at least a 3 month cycle with dosage increasing each month. The optimal dosing time for MK 677 is at night directly before going to bed. One should start noticing deeper sleep almost immediately. If one should wake up with numb or tingly hands, do not worry. This is a common side effect of the extra GH in the system.
MK 677 example cycle:
Month 1 – 10 mg once daily at night
Month 2 – 20 mg once daily at night
Month 3 – 30 mg once daily at night
MK-677 (GHAR1NE) can be stacked with other select Olympus Labs and Olympus UK items.