Warning: This product is not currently available at any store.
Click the button above and PricePlow will email you when the first store has it in stock!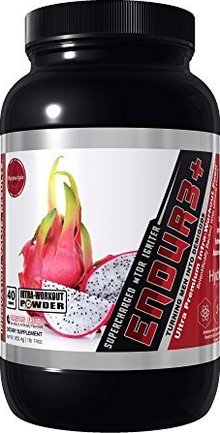 Olympus Labs ENDUR3+ | Premium Intra-Workout
ENDURE+ by Olympus Labs was created to help you ENDUR3 and recover from the all out assault on your muscles during your intense workout. ENDUR3+ provides a maximum level of muscle protein synthesis (MPS) with the Maximum mTOR Igniting BCAA & EAA Matrix, featuring 5g of Leucine. Delayed onset muscle soreness (DOMS) and fatigue is a thing of the past with the combination of our EAA blend and the Fatigue Destruction Matrix which contains 2.75g of L-Glutamine and 1g of Taurine. Additionally, ENDURE+ recharges you with the Maximum Hydration Matrix which consists of a combination of electrolytes and organic coconut water powder.
Olympus Labs could have easily stopped there, but DemiGods go HARD every workout so why not take advantage of that intensity and maximize MPS. The Maximum Amino Uptake & Ergogenic Matrix ensures that you ENDUR3 to the bitter end of the toughest workouts with 2g of HydroMax Glycerol, 100mg of (-)/-epicatechin, 1g of agmatine and 150mg of Schisandra standardized to 9% Schisandrins. This matrix will increase blood flow, exercise capacity and endurance while reducing stress and fatigue.
ENDUR3+ also includes a Maximum Energy Matrix with 20g of Carb10 to provide a sustained release of energy to keep you fueled during your workout with minimal GI distress and insulin spike. When you buy ENDUR3+ by Olympus Labs you are investing in much more than a simple amino formula. Olympus Labs does not and will not dabble in the realm of the ordinary. ENDUR3+ goes above and beyond any workout aid on the market because DemiGods go hard in the gym and amino acids alone won't provide the endurance you need to CONQU3R your workout.
Olympus ENDUR3+ was formulated as a multi-faceted supplement to fit any workout routine for ALL DemiGods & DemiGoddesses. Pre-workout, intra-workout or post-workout … the choice is yours. EAAs and -(-)epi have acute as well as long term benefits so there is no wrong time to use ENDUR3+. Furthermore, ENDUR3+ is beneficial for any type of exercise regimen from Powerlifting to CrossFit to Yoga. Supplementation with amino acids can even be beneficial on rest days or anytime where protein ingestion may be low.