Quick Links to Best Prices Price History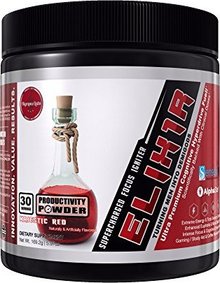 Key Benefits:
Increased Attention
Extreme Focus
Mood Elevation
Cognitive Enhancement
Stress Reduction
Extreme Energy, Focus, Euphoric Mood, & Cognitive Hyperdrive Igniting Matrix:
No matter what time of day you need to get zoned in to handle some business, ELIX1R sets you up for success with the Extreme Energy, Focus, Euphoric Mood, & Cognitive Hyperdrive Igniting Matrix. You will be alert and ready to rock with 300mg of Caffeine Anhydrous, 125mg Sensoril Optimized Ashwagandha Extract and 4mg Galantamine.  These three ingredients will increase focus, enhance mood and stimulate mental activity.  We then kick your mental ability into hyperdrive with 450mg of Bacopa monnieri for incredible cognitive enhancement.  The Caffeine Anhydrous and Sensoril will also increase energy and reduce fatigue so you can CONQU3R the day or night!  
Caffeine increases focus, mental alertness, energy, and reduces symptoms of fatigue due to its ability to produce higher dopamine levels in areas of the brain that are linked to "attention".  Caffeine has been found to improve focus and concentration during activity, even after a poor night's sleep, hence the reason it headlines the Extreme Energy, Focus, Euphoric Mood, & Cognitive Hyperdrive Igniting Matrix.
A double-blind study in healthy subjects who had a moderate habitual caffeine consumption investigated the effect on placebo and 100, 200, and 400 mg oral caffeine on energy expenditure, plasma concentrations of substrates and hormones, blood pressure, and heart rate.  Caffeine increased energy expenditure dose dependently and the thermogenic response was positively correlated with the response in plasma caffeine (r = 0.52; p less than 0.018), plasma lactate (r = 0.79; p less than 0.000001), and plasma triglyceride (r = 0.53; p less than 0.02).
As beneficial as caffeine is, you would not want to rely on it as your sole energy source because at an excessive amount you may begin to experience a "jittery" feeling.  That is the genius of ELIX1R, it does not attempt to target a pathway by overloading you with one ingredient.  Contrary to other supplements there is a reasonable yet effective amount of caffeine in ELIX1R.  However, we will still want amazing results so we included Sensoril and Galantamine to complement the caffeine.
Sensoril is a proprietary, multi-patented, standardized extract of Ashwagandha.  Ashwagandha is an adaptogen which are a class of substances which normalize body functions to help reduce fatigue.  Ultimately a reduction in fatigue will leave you with more energy.  In fact, Sensoril is clinically tested to boost energy.  Furthermore, adaptogens increase resistance to stress that helps to promote emotional uplift as well as an enhanced mood and is particularly effective when taken on a daily basis. Sensoril's benefits of increased energy, fatigue and stress reduction results from its unique ability to improve levels of the corticosteroid hormones, reduce cortisol and increase DHEA. Cortisol is associated with the body's response to stress while DHEA is an anti-aging hormone that provides energy and vitality.
In a double blind, placebo-controlled, human clinical trial participants that ingested the recommended dose of Sensoril experienced a 79% reduction in fatigue coupled with increased energy. The Sensoril group also saw improvements in mood coupled with reductions in stress, anxiety, irritability, inability to concentrate, and forgetfulness. These components were unchanged in the placebo group throughout the study.  In addition, serum cortisol levels decreased by 24.2% while serum DHEA levels increased by 32.2%. Research has shown that reductions in cortisol are associated with reduced stress and an enhanced mood, while increased DHEA levels lead to greater energy.
Another amazing characteristic of Ashwagandha is that the body does not become habituated to its effect so increased dosage is not necessary over the long term to produce a sustained benefit.
Galantamine is an alkaloid from the flower, Galanthus nivalis L, also known as the common snowdrop.  It is a genus of perennials in the Amaryllis family that are among the first bulbs to bloom in the spring.  With the effective dose of Galantamine in ELIX1R you will TR1UMPH no matter the season.
Galantamine offsets reductions in central cholinergic neurotransmission by inhibiting the acetylcholinesterase enzyme resulting in an increase of acetylcholine in the brain. As an acetylcholinesterase inhibitor, it competitively blocks the premature breakdown of the natural neurotransmitter acetylcholine, an essential molecule that supports memory function. Unlike other acetylcholinesterase inhibitors, galantamine is a nicotinic receptor agonist, a substance that promotes the action of acetylcholine in the central and peripheral nervous system.  The enhancement of nicotinic receptor activity has been known to influence memory and intellectual activity.