Warning: This product is not currently available at any store.
Click the button above and PricePlow will email you when the first store has it in stock!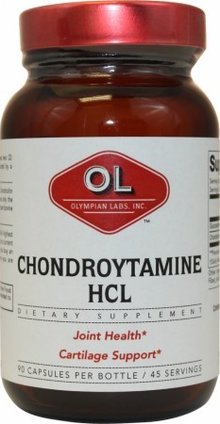 Olympian Labs Chondroytamine HCL
Chondroytamine HCL is a powerful combination of Chondroitin
Sulfate and Glucosamine HCL that supports healthy joint and cartilage function.* Chondroitin Sulfate is a glycosaminoglycan (GAG) found naturally in the body. It is important to maintaining elasticity and integrity of many types of body tissues, including the walls of blood vessels, connective tissue and cartilage.* Cartilage is found in joints and between vertebrae.
As we age, the water content of cartilage decreases, causing problems in joint mobility. Chondroitin Sulfate helps to support fluid within cartilage tissue.* Hydration of these tissues helps to maintain the compressibility, elasticity and fluidity of joint movement that are characteristics of healthy joints. Having adequate amounts of fluid in these tissues helps keep cartilage healthy in two ways: it acts as a shock absorber within the joints of the body, thus protecting cartilage from being worn away by the bones; and it carries nutrients to the cartilage. The cartilage in the joints of the human body has no blood vessels, so it must receive its nutrients from tissue fluid.