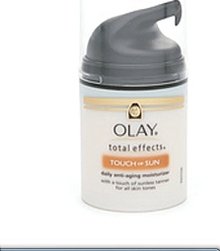 Olay Total Effects Daily Anti Aging Moisturizer Cream, For All Skin Tones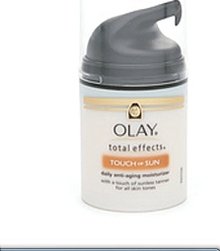 Olay Total Effects Daily Anti Aging Moisturizer Cream, For All Skin Tones
New! Fight 7 Signs Of Aging And Give Skin An Even Sun - Kissed Glow With A Touch Of Sunless Tanner
No Streaking Or Orange
Non - Comedogenic (Won't Clog Pores)
Light, Non - Greasy, Suitable For Daily Use
Olay Total Effects Touch of Sun is a one step solution that fights 7 signs of aging and gives skin an even sun - kissed glow.  It empowers your skin with a combination of a proven anti - aging complex, vitamins, minerals, and a touch of sunless tanner.It fights seven signs of aging as it enhances your skin's natural glow:
Diminishes the appearance of fine lines and wrinkles
Smoothes skin texture - visibly and to the touch
Improves surface dullness, giving skin a radiant, healthy glow
Evens skin tone for younger - looking, more balanced color
Minimizes the appearance of pores
Visibly reduces the appearance of blotches and age spots
Soothes dry skin, hydrating with Olay moisture
And gives skin a natural sun - kissed glow.
* These statements have not been evaluated by the Food and Drug Administration. This product is not intended to diagnose, treat, cure, or prevent any disease.