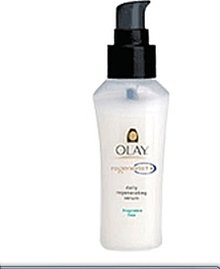 Olay Regenerist Daily Regenerating Serum, Fragrance Free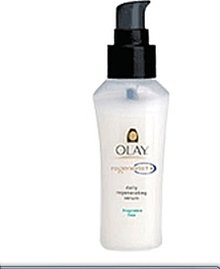 Olay Regenerist Daily Regenerating Serum, Fragrance Free
Regenerates Skin's Appearance, One Cell At A Time
Concentrated Amino-Peptide Complex
Fragrance Free
Olay Regenerist
helps regenerate your skin's appearance without such drastic measures as chemical peels, cosmetic surgery or laser. Clinical tests have proven that amino-peptides can help regenerate damaged skin.  Now Olay Regenerist uses this technology to beautifully regenerate skin by renewing its outer layer, revealing newer skin.
Regenerist Daily Regenerating Serum Fragrance Free
uses a concentrated form of an exclusive amino-peptide complex and combines it with Olay moisture to offer the maximum regeneration and hydration within the Regenerist line.  This gentle, dermatologist-tested formula is 100% fragrance and color free and has been designed for everyday use.
Also try other products within the Regenerist line, which have been designed to be used individually or in combination:
Regenerist Enhancing Lotion with UV Protection, Regenerist Perfecting Cream
* These statements have not been evaluated by the Food and Drug Administration. This product is not intended to diagnose, treat, cure, or prevent any disease.