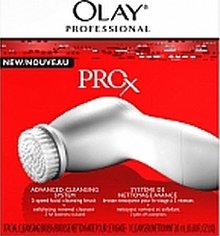 Olay Professional Pro-X Advanced Cleansing System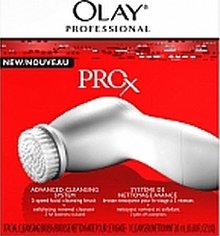 Olay Professional Pro-X Advanced Cleansing System
Cleanses skin 6x better* and helps maximize the immediate hydrating effectiveness of your anti-aging moisturizer.
Leading dermatologists and Olay skin scientists have partnered to establish the Olay Professional Alliance.  Through this partnership, Pro-X was created to bring you prescribed regimens to treat your specific skin care concerns.
Professionally Designed With The Following Features :
2-speed, rotating system delivers daily deep cleansing and gentle exfoliation.
Water resistant for use in the shower.
Replaceable soft bristle brush head (included).  Refills available.
Pro-X Exfoliating Renewal Cleanser (sample included) recommended for daily exfoliation.
Cleansing brush can also be used with a broad range of Olay cleansers for daily deep cleansing.
2 AA batteries also included.
* These statements have not been evaluated by the Food and Drug Administration. This product is not intended to diagnose, treat, cure, or prevent any disease.