Quick Links to Best Prices Price History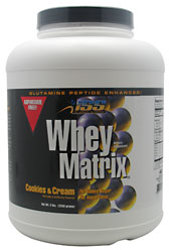 ISS Research Whey Matrix

Whey Matrix Highlights:
Economic 5 LB Whey
Glutamine Peptide Enhanced!
No Aspartame
No Added Sugar
Great Taste & Mixability!
Mixes Instantly!
Protein supplementation is becoming more and more an integral part of our nutritional programs. We are finding it absolutely necessary to maintain higher levels of protein in our daily regimens in order to achieve our highly demanding goals: Tight & Toned Muscles, Improved & Accelerated Muscle Recovery, as well as Increased Strength & Muscularity. ISS Research is proud to present to you Whey Matrix. Whey Matrix is a blend of Whey Proteins (WPC & WPI) enhanced with Glutamine Peptides. ISS Whey Matrix is a clean filtered, undenatured, Aspartame Free protein powder mix that is highly digestible!
Serving Size: 1 Scoop (32g) Servings Per Container: - 71 % Daily Value* Calories - 130 Calories from Fat - 20 Total Fat - 2g 3% Saturated Fat - 1g 6% Cholesterol - 40mg 13% Sodium - 55mg 2% Total Carbohydrates - 6g 2% Dietary Fiber - 0g 0% Sugars - 3g Protein - 22g 44% Vitamin A
Please note:
Nutritional content may vary between Whey Matrix flavors.
Ingredients:
Whey Matrix (whey protein concentrate, whey protein isolate & glutamine peptides), maltodextrin, natural & artificial flavors, lecithin, acesulfame potassium, stevia. Percent Daily Values (DV) are based on 2,000 calorie diet. * Contains no added tryptophan. The tryptophan indicated is from naturally occurring sources of protein in this product.
Directions:
Mix one scoop (32 gm) of Whey Matrix in 4-6 oz. cold water, non-fat milk or your favorite beverage. Whey Matrix is a perfect additive to your favorite cereals, yogurt, pancakes, and sauces and Whey Matrix mixes instantly with a spoon! Editor's Note: Whey Matrix is a very clean protein with no added sugar or aspartame - and it has added glutamine peptides! For a 5 LB value protein, Whey Matrix is one of the very best choices available.
I-Supplements offers the lowest prices on ISS Research and all other Supplements for Fitness Minded People & Athletes!