Quick Links to Best Prices Price History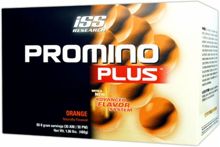 Oh Yeah! Promino Plus AM/PM
Promino Plus AM/PMOverview

Sometimes, the best way to help your body and improve how you feel is to help your body's natural production processes. ISS Research Promino Plus AM/PM does just that. It helps your body produce healthy levels of natural growth hormone instead of loading you with artificial chemicals. The amino acids and peptides included make up building blocks of the hormone and the effervescent delivery system helps delivery in a potent, stable form.

You may be wondering how increased growth hormone will help you. The list is long, so we'll just hit some of the major points: it speeds recovery from injury, helps your skin and muscles stay healthy and improve their appearance and it increases your energy by supporting a strong metabolism. It may surprise you to know that the growth hormone produced by your body has no negative side effects. Promino Plus AM/PM is the only licensed product with the specialized ingredients Pro Cosanoid, to aid nerve synapse function and Endo-Pro Plus, to enhance circulation. Improve your health like nothing else with Promino Plus AM/PM.
Promino Plus AM/PMDescriptionfromISS Research
Promino Plus is the only 2 part gH and IGF-1 precursor system with no receptor burnout. Use everyday all year long. Feel younger, more alert and more rested.
AM Formula
Supplement Facts
Serving Size: 1 Packet
Servings Per Container: 30
Ingredient
Amount
% Daily Value**
Calories
4
Fat Calories
0
Sodium
35 mg
1
Sodium
274mg
11
Total Carbohydrates
0
Sugars
1g
Protein
0
Vitamin C
600mg
1000
Proprietary AM Blend
1465mg
-Endo-Pro Plus (Taurine and Gaba)
-ProCosanoid, Trimethylxanthine (Caffeine)
-L-glutamine, L-arginine, L-tyrosine, L-Lysine, L-theanine, Succinic Acid
** Percent Daily Value is based on a 2000 calorie diet. Your daily values may be higher or lower depending on your calorie needs.
† Daily Value not established.


PM Formula
Supplement Facts
Serving Size: 1 packet
Servings Per Container: 30
Ingredient
Amount
% Daily Value**
Calories
4
Calories from Fat
0
Total Fat
0g
0
Saturated Fat
0g
0
Cholesterol
0mg
0
Total Carbohydrate
1g
Sugars
1g
Protein
0g
0
Vitamin C
600mg
1000
Sodium
274mg
11
Proprietary PM Blend
1245mg
-Endo-Pro Plus (Taurine and Gaba), L-glutamine, L-arginine, L-tyrosine, L-lysine, L-theanine
-Succinic Acid
** Percent Daily Value is based on a 2000 calorie diet. Your daily values may be higher or lower depending on your calorie needs.
† Daily Value not established.


Manufacturer's Directions
AM Directions: Upon awakening, mix 1 AM packet in 4-6 oz. of water or your favorite beverage. Wait for reactive foam to dissipate, then drink.

PM Directions: 1 to 2 hours before bedtime, mix 1 PM packet in 4-6 oz. of water or your favorite beverage . Wait for reactive foam to dissipate, then drink.

Manufacturer's Disclaimer
Discontinue use and consult your physician if dizziness, sleeplessness, tremors, nervousness, headache, or heart palpitations occur. Call 1-888-231-2684 should you have any questions or concerns.




5

By:

Tilepat

on 7/19/2016

Great Product. Great Service

I love this product. I use it before workouts. Lots of energy. All Star Healths service is great. They always have shipped right away at a fair rate. I get it in a few days.

5

By:

ALGAL

on 11/01/2015

ISS Promino PLUS; My Fountain of Youth

Going on my 71 years of youth and still going. Have been using it for years and still moving. Could not live without it. Great product.

Add Your Own Review







Customers Who Bought This Item Also Bought

Yerba Prima Colon Care Formula  12 oz

Our Price $7.89

EAS Myoplex Original Shake Vanilla Cream 42 pckt

Our Price $71.29

Avalon Organics CoQ10 Enzyme Skin Care Facial Cleansing Milk  8.5 fl.oz

Our Price $6.99

Similar Products

Body First IGF-1 +   1 fl.oz

Our Price $13.99

ISS Research Promino Plus AM/PM Orange Pineapple  60 pckt

Our Price $43.59

BodyStrong 5-HTP (100mg) ^  360 caps

Our Price $35.99