Warning: This product is not currently available at any store.
Click the button above and PricePlow will email you when the first store has it in stock!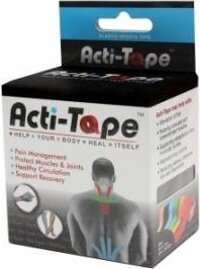 Swipe left/right to reveal product information
The Most Advanced Elastic Therapeutic Tape
Acti-Tape has its origins in therapeutic tapes for rehabilitation of injuries, providing support to joints and muscles, and enhancing sports performance without affecting range of motion. The concept was initially developed in Japan in the late 1970's. Nowadays aside from application in rehabilitation, newer methodologies have been developed that address benefits associated with preventive health maintenance, reducing edema and pain relief.*
Acti-Tape May Help You With:
Alleviation of Pain*
Relaxing Overused and Overextended Muscles*
Repositioning of Joints*
Reducing Edema, Inflammation and Discomfort*
Supporting Rehabilitation from Muscular Injuries*
Features of Acti-Tape:
Latex Free, Hypoallergenic*
Effective for 3-4 Days*
Water Resistant - Can Withstand Showers and Athletic Swimming*
Allows Muscles to Perform a Full Range of Motion, Easily and Comfortably*
Highly Breathable - Efficiently Channels Air and Sweat to Maintain Skin Integrity*
How Acti-Tape Works
Acti-Tape is a high-quality therapeutic sports tape from NutriWorks that is manufactured in accordance to strict quality (GMP & ISO) and hygiene standards. Acti-Tape is a highly elastic, non-latex body surgical tape made of thin porous cotton fabric with an adhesive. Lines of adhesive are applied in a special wave-like pattern with areas between these waves that are adhesive-free. This alternating pattern allows for greater air permeability and the tape is very comfortable to wear. It provides a new option in muscle rehabilitation and pain relief for everyone. All this along with the added option of making a very fashionable and colorful athletic statement!
The methodology is referred to by different names such as neuromuscular taping, sports taping or medical taping. Medical taping has helped countless athletes, professional and amateur alike, maintain physical excellence even when subject to extremely harsh training regimes and intensive sports events. It is increasingly common during sporting events to see participants using these colorful sports tapes applied to joints and muscles. This increased visibility is resulting in the broader adoption of such taping methods among people who exercise regularly and who may feel the need for extra support.*
The basic premise is that movement and maintaining activity in muscles is necessary for recovery. Various versions of tapes were developed to support muscles without restricting movement or range of motion. It was also assumed that muscles affected blood circulation. Tape that is applied on stretched skin has been found to be very useful in reducing localized swelling associated with surgery, orthopedic or sports injuries, and acute trauma. It has also been found to be beneficial in the treatment of lymphedema. The combination of technique and tape can create unique effects on different body systems by supporting the elastic qualities of body tissues such as the skin and muscles. It has been used effectively in Asia for over 20 years and was introduced in the USA in 1995.*
Who Can Use Acti-Tape?
Everyone Can Use and Benefit from It!
Sports tapes like Acti-Tape are now widely used by professional athletes, trainers, podiatrists and orthopedists worldwide. Since it is non-medicated, pregnant women, children, office workers and the elderly who need muscle support and protection will also find it useful. Concurrent application while undergoing physical therapy may optimize the effect of such therapy. It may be applied to assist with relief of lower back strain/pain, subluxation, disc herniation, knee conditions, tight hamstrings, groin injuries, rotator cuff injuries, whiplash, tennis elbow, patella tracking disorder, pre- and post-surgical edema, ankle sprains, etc. Such broad application makes Acti-Tape your best partner for your active lifestyle.*
Acti-Tape Frequently Asked Questions
Do the different colors of Acti-Tape mean anything?
There is no technical difference between the various colors of Acti-Tape. The choice is purely one of personal preference any style! However if engaged in outdoor activities, it may be useful to use black because this absorbs more heat when under the sun and gives an added warmth to the point of application.*
How do I decide which application to use?
The procedure is simple, First, locate the problem. Then define what you feel you need. Is it pain relief? Or is it perceived lack of strength in a muscle or joint? Is it swelling?
Once you decide the location and what you need, then visit the Acti-Tape.com website and under the section 'How to use', you will see the drop down menu with common applications and applications sorted by location on the body. Video and diagrams are provided for dozens of different applications.
There are multiple application methods for one area of the body. How do I decide which exactly I should try?
When the application method chosen is appropriate, the perceived effect (whether pain relief or from a weak joint or muscle - but not swelling) is almost immediate. That does not mean that the problem has been cured but that the tape has provided the relief and support required while still allowing for a broader range of motion.*
This immediate feedback is a useful way of deciding if the tape has been applied appropriately. If there is no perceived improvement within a few minutes, remove and choose a different application. It also means that you should start with what appears to be the more simple application methods for that area of the body. This on the basis that "less is more".*
Will my condition worsen if I tape incorrectly?
In short, "No". It is of course good to follow as closely the advice given on the Acti-Tape videos so as to obtain the best possible effect. The likely worst outcome is that you have wasted a piece of tape in that the desired effect has not been obtained. We do encourage you to 'play' with the tape though to see how you can help your own situation.*