Quick Links to Our Prices
How does this work and how do stores get listed? See our disclosure below to learn more. Price History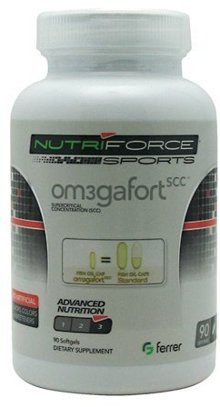 NutriForce Sports Omegafort SCC
Supercritical Concentration of Omega-3 Fish Oil
Omegafort SCC is made with specific concentration and purity standards, designed to meet the exact needs of The Fittest Athletes in the World.
Supports the natural anti-inflammatory response to promote recovery from exercise*
Supports heart and joint health to aid your body in its ability to cope with high-intensity training*
May reduce the risk of coronary heart disease*
Omega 3's are essential polyunsaturated fatty acids, unable to be produced by our bodies, which must be obtained through our diets. Unfortunately, most of us do not consume sufficient amounts of these Omega 3 rich foods, leading experts to suggest we supplement our diet with fish oil concentrates.*
Burp Free Enteric Coating
The biggest complaint about the consumption of traditional fish oil softgels is the unsavory "fish burps" associated with reflux. In an effort to control these burps, NutriForce Sports Quadruple Strength Fish Oil softgels are carefully enteric coated using a proprietary process to allow the capsules to break down and be absorbed in the small intestine, thus minimizing the "fishy burp" effect.*
Maximum Purity Using a Supercritical Concentration Extraction Process
The Quadruple Strength SCC Fish Oil used in Omegafort SCC is manufactured using the highest recognized international standards for concentration, purity and potency. The fish oil is regularly tested by independent laboratories using the highest and most demanding US and international nutritional standards and protocols. This ensures Omegafort SCC is free of detectable levels of mercury, lead, PCBs and other toxins. No other technology in the world delivers cleaner and more concentrated fish oils than Supercritical Fluid Technology. The Supercritical extraction process used to produce this product yields a very effective, extremely pure, highly concentrated oil, rich in EPA and DHA and unrivaled in the marketplace. Unlike molecular distillation, Supercritical processing is friendly to the environment and utilizes low levels of heat which protects the essential fatty acids.*
85% Pure Omega-3 Concentration and 4X the Strength of Standard Fish Oils
Each 1410mg capsule of fish oil equals 1200mg of pure Omega-3 fatty acids, including 1055mg of pure EPA/DHA. Studies show that Omega-3 fatty acids concentrated in one softgel are much more effective than the same number of Omega-3 fatty acids consumed over multiple softgels/caps. The 85% Omega-3 oil in Omegafort SCC means less unwanted fats and up to 5x greater absorption in the blood stream. Omegafort SCC contains 99% polyunsaturated fats with no saturated fats and no monounsaturated fats.*
6:1 EPA/DHA Concentration Ratio Designed Specifically for Athletes*
The 6:1 EPA/DHA Concentration Ratio in Omegafort SCC is designed to reduce inflammation, achieve quick recovery, and protect athletes form injury. Research indicates that EPA plays a more important role than DHA in the reduction of inflammation, while DHA is key for heart health and healthy cholesterol levels. Omegafort SCC contains 915mg of EPA & 140mg of DHA per capsule. That's more EPA per capsule than any other Fish Oil that is specifically designed for athletes.*