Warning: This product is not currently available at any store.
Click the button above and PricePlow will email you when the first store has it in stock!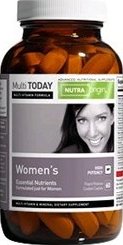 NutraOrigin Multi Today Women's
High-potency Multivitamin and Mineral formula with iron tailored for the specific needs of Women in their reproductive years. Multi Today Women's is a complete multivitamin and mineral formula that is formulated for the specific needs of women in their reproductive years - including 100 percent of the daily value for iron. In addition to providing a complete array of vitamins and minerals necessary for women's health, Multi Today Women's also includes a proprietary skin, hair and nail blend, for supporting natural beauty; a bone blend, for helping maintain bone strength; a women's herbal blend, with carefully chosen herbs traditionally used to support the female system; a wealth of botanical antioxidants, for protecting against free radicals, and an energy blend of herbs and green foods valued for their revitalizing properties. •Complete multivitamin and mineral with iron •Formulated for the specific needs of women in their reproductive years •Two tablets per day •18 mg iron - 100 percent of the daily value - for healthy energy •Extra B vitamins to power active, energetic lifestyles •500 mg calcium + 250 mg magnesium + 600 IU vitamin D for bone health •Proprietary skin, hair and nail blend for natural beauty •Bone for maintaining bone strength •Botanical antioxidants protect against free radicals •Energy blend of herbs and green foods revitalize body and brain •Women's herbal blend supports the female system Multi Today Women's Cellular Health •Provides antioxidant protection to the cells (A, C, E, alpha lipoic acid, antioxidant blend) •Supports the production of red blood cells (B-5) •May offer protection to tissues such as the breasts and colon (D, selenium) Eyes •Helps maintain healthy vision (A) Hair, Skin and Nails •Supports healthy hair, skin and nails (biotin, skin/hair/nail blend) •Promotes healthy wound healing (C) Immune •Supports healthy immune function (A, C) Heart •Helps keep blood vessels clean and flexible (E) •Promotes cardiovascular health (D, E) Bones and Muscles •Helps build bone and supports muscle health (calcium, magnesium, manganese, boron, potassium, D, K, bone blend) Thyroid •Maintains healthy thyroid function (iodine) Energy and Vitality •Provides cofactors needed for energy production (B vitamins) •Aids in the transportation of oxygen to the cells, supporting healthy energy (iron) •Supports and revitalizes the female system (energy blend, herbal blend) Blood Sugar •Aids in the transport and utilization of glucose (chromium) •May help balance blood sugar levels (B-3) Stress •Supports the health of the nervous system, which may alleviate occasional stress (B vitamins) Brain •Helps maintain healthy brain function (B vitamins) Why Multi Today Women's is Superior •Only the best, scientifically researched ingredients used •Pharmaceutical grade and quality •Wide spectrum of effective compounds, as opposed to lesser formulas with just a few ingredients •Guaranteed pure and potent •Ingredients fully evaluated by NutraOrigin for safety and quality (view Certificate of Analysis) •Higher dosages and potency than standard "one-per-day" brands •Quality backed by independent inspection •Manufactured and packaged in facilities with the Good Manufacturing Practices (GMP) clean bill of health certification, which assures the highest level of quality Serving Size 2 Caplets , 30 servings per container Contains Contains milk, soy and fish (sardine, anchovy, menhaden) ingredients Other Ingredients Vegetable Cellulose. Contains Supplement Facts Serving Size is 2 Caplets Amount Per Serving %DV Vitamin A (as beta-carotene) 5000IU * Vitamin C (as Ascorbic Acid) 200mg * Vitamin D (as cholecalciferol) 600IU * Vitamin E (as d-alpha tocopheryl acetate) 100IU * Vitamin K (as Phytonadione) 150mcg * Thiamin (Vitamin B-1) (as Thiamin Mononitrate) 80mg * Riboflavin (Vitamin B-2) 80mg * Niacin (as niacinamide) 80mg * Vitamin B-6 (as Pyridoxine Hydrochloride) 80mg * Folic Acid 400mcg * Vitamin B-12 (as Cyanocobalamin) 80mcg * Biotin (as d-Biotin) 500mcg * Pantothenic Acid (as d-Calcium pantothenate) 80mg * Calcium (as Calcium Carbonate) 500mg * Iron (as ferrous fumarate) 18mg * Iodine (as Potassium Iodide) 150mcg * Magnesium (as magnesium oxide) 250mg * Zinc (as Zinc Oxide) 15mg * Selenium (as Sodium Selenate) 200mcg * Copper (as Cupric Oxide) 2mg * Manganese (as manganese gluconate) 2mg * Chromium (as chromium picolinate) 200mcg * Molybdenum (as sodium molybdate) 75mcg * Potassium (as potassium chloride) 10mg * Hesperidin Complex 5mg * Alpha Lipoic Acid 25mg * Vanadium (as Sodium Metavanadate) 10mcg * Proprietary Skin, Hair, Nail Blend Collagen (Hydrolyzed Gelati 100mg * Proprietary Bone Blend Soy Isoflavones, Boron (as Sodium Borat 100mg * Proprietary Energy Blend Green Tea Extract (Camellia sinensis) 100mg * Proprietary Antioxidant Cardio Blend Citrus Bioflavonoids (Cit 100mg * Proprietary Herbal Blend Ginkgo Biloba (Ginkgo biloba) (leaf), 100mg * *Daily Value (DV) not established.