Quick Links to Best Prices Price History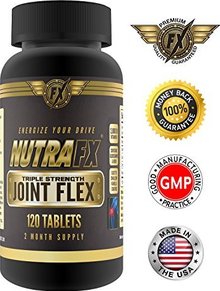 NutraFX Triple Strength Joint Flex
ANTI-INFLAMMATORY - Inflammation causes pain in your joints and entire body, it also leads to a myriad of other problems. Take control of your inflammation today with Triple Strength Joint Flex

PROTECT YOUR JOINTS - Protection from the wear and tear strenuous bodybuilding can cause on your joints. Prevention is the best medicine, and if you want to get results you don't have time to waste on injuries and torn muscles

REBUILD - Rebuild and strengthen the cartilage around your joints. Increase mobility by rebuilding your ligaments and lubricating your joints with natural anti-inflammatory ingredients

EXTRA-STRENGTH - NutraFX designed this potent formula with high-energy workout warriors in mind. We know you need extra nutrients to nourish growing muscles, so we made sure to create the strongest joint formula available

PURE & GUARANTEED - We take pride in giving you the highest quality joint supplement on the market. Made in the USA at our own cGMP certified and FDA approved facility. If you're not satisfied, you'll get your money back, guaranteed. Get Triple Strength Joint Flex today!
More