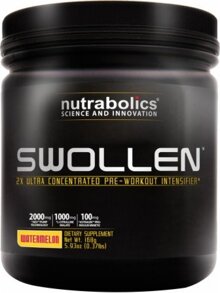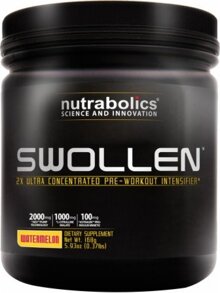 Surging Endurance*
Extreme Energy & Focus*
Massive Muscle Pumps & Vascularity*
INTENSE PUMPS, FIERCE WORKOUTS*
When it comes to psyching yourself up for the gym, everyone looks for a pre-workout supplement that can deliver that special edge - something that will knock you over with massive pumps and surging energy. Well, look no further. Nothing hits you harder or faster than Nutrabolics' 2x ultra-concentrated pump-inducing pre-workout - SWOLLEN!

SWOLLEN is backed by scientifically-researched, real-world dosages of the most science-backed ingredients. This formula is designed to unleash massive pumps and vascularity. For those who don't have time to waste with ineffective formulas, get your SWOLE ON today with SWOLLEN and experience some of the fiercest work-outs of your life!
INTESIFY MUSCLE PUMPS,
POWER, AND STRENGTH
Using two superior forms of Arginine and potentiated with doses of L-Citrulline Malate and Agmatine, SWOLLEN's fast-absorbing powder formula provides your body with a rapid elevation of blood plasma Nitric Oxide (NO) levels.* This NO rush has a vasodilating effect on the circulatory system, volumizing muscle tissues and flooding them with additional nutrients.*

This vasodilating rush means explosive, long-lasting pumps, enhanced nutrient uptake and unbelievable power output. Your intense, skin-bursting workouts begin with one small bottle of the one and only, SWOLLEN.
AMPLIFIED ENERGY AND MENTAL FOCUS*
SWOLLEN was designed to give you the ultimate pre-workout rush. This innovative matrix combines Nutrabolics signature AE2 Arginine matrix, Guarana, Gamma-Butyrobetaine, Epimedium Sagittatum, L-Citrulline Malate, L-Tyrosine, and Caffeine, which combine to provide your body with explosive energy so you can conquer your workout session.

When paired with intense exercise, SWOLLEN is designed to support sustained focus and intensity, allowing you to hone in on each individual rep and maximize their anabolic potential.*
SURGING STAMINA AND ENDURANCE*
SWOLLEN lets you harness non-stop surging endurance from the first dose, giving you the power to train harder and push past muscle failure and fatigue!*

With the patented AstraGin working to elevate your quick source energy (ATP), and bio-catalysts like Epimedium Sagittatum and Agmatine stimulating pro-anabolic processes, the results support strength, optimal nutrient absorption, and enhanced recovery.*
ENHANCES BIO-NUTRIENT UPTAKE*
SWOLLEN is engineered using AstraGin - the only clinically validated food-ingredient able to increase life supporting nutrients in your cells. AstraGin has is suggested to increase amino acid absorption by up to 60%, vitamin absorption up to 50%, and support increase glucose uptake and insulin sensitivity.*

AstraGin allows you to enhance nutrient uptake and bio-availability, leaving your body primed to perform at its peak and capitalize on your gains.*
WHAT DEFINES A STRONG
PRE-WORKOUT SUPPLEMENT?
The requirements for a great pre-workout are simple; strong energy, and huge muscle pumps. A strong pre-workout will generate consistent blood flow with lots of increased muscle cell volume, along with a hard-hitting, non-jittery energy rush. SWOLLEN does both of these these exceptionally well. In addition, SWOLLEN was formulated with AstraGin, Agmatine, and other high-tech bio-catalysts to take full advantage of your engorged muscles by enhancing nutrient flow efficiency and supporting other anabolic processes.*

Another factor to consider in a pre-workout is digestibility. Some pre-workout supplements can give you "gut-rot," or cramping, due largely in part to impure or low-grade ingredients and fillers. Unlike these products, SWOLLEN is potent and pure, so you can bring uninterrupted power and intensity to your training.*
WHY USE A PRE-WORKOUT SUPPLEMENT?
While it's true that the energizing effects of a pre-workout supplement can make the difference between a successful workout and an average one for many athletes, their vasodilating properties can be even more critical.

Vasodilators like the AE2, Gamma-Butyrobetaine (GBB), and L-Citrulline Malate found in SWOLLEN are designed to trigger a chain reaction of molecular processes that support a range of effects from improving muscle composition to aiding in recovery.* Part of the benefits of increased muscle pumps is derived from the enhanced nutrient flow it promotes, an effect that is only further enhanced by SWOLLEN's inclusion of the patented pro-insulin mimetic, AstraGin.
WHAT IS AE2?
AE2 is Nutrabolics state-of-the art, cutting edge dual action nitric oxide supplement. It combines two of the purest, and most active forms of L-Arginine (Arginine Ethyl Ester HCL and Arginine Alpha-Ketoglutarate) to deliver insane pumps, and increase the intensity and power of your workouts.*