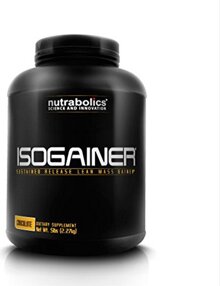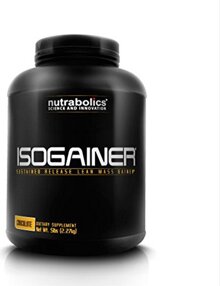 Accelerate
Recovery*
Extend Muscle
Anabolism*
Support Size and
Lean Muscle Gains*
UNLIMITED MUSCLE GAINS
ISOGAINER hits hard with a massive 60 grams of protein per serving thanks to Nutrabolics' signature 5-stage, triple isolate protein matrix. Each premium protein polymer in this matrix releases at a different speed, keeping you anabolic for hours!*
This lean smart gainer is enriched with an advanced complex carbohydrate blend to help support glycogen replenishment, insulin output and optimal energy levels.* ISOGAINER is also engineered with 2,500 mg of Nutrabolics' Anabolic Activating Matrix (including Alpha Lipoic Acid) to extend your anabolic potential. ISOGAINER will push your body's muscle mass to new limits while supporting lean muscle definition.* This high-tech gainer represents precision mass building at its finest.
PUSH THE LIMITS OF YOUR
SIZE AND LEAN MUSCLE MASS
ISOGAINER is a "smart-gainer" that is designed to support moderate mass-building while helping to keep gains as lean and consistent as possible.*
This precision formula is perfect for mesomorphs and serious bodybuilders wanting to take their physique to the next level. ISOGAINER contains complex carbs that help stabilize insulin fluctuations in the bloodstream while supporting glycogenesis and cell volume.* Unlike typical gainers, there are no arbitrarily added simple sugars or fillers.
INCREASE YOUR ANABOLIC ENDURANCE*
At ISOGAINER's core is a premium 5-Stage Sustained-Release Protein Matrix. This blend is scientifically designed to provide high levels of a specific ratio of amino acids that are suggested to stimulate extended protein synthesis for maximum muscle growth as you train.*
Rapid-release proteins, such as whey protein isolate, are complemented by slower-digesting proteins like casein hydrolysate. The overall action of these proteins results in a constant nourishment of your muscle tissues. When combined with the anabolic activating matrix containing nutrient transporters like Alpha Lipoic Acid and Arginine, this heavy-duty smart gainer is primed to keep your body in an anabolic state for up to 8 hours!*
OPTIMIZE GLYCOGEN REPLENISHMENT
Each serving of ISOGAINER contains a precision complex carbohydrate blend including barley and oat fiber, which supports the efficient replenishment of the glycogen system. These carbs also steadily trigger the insulin response necessary to effectively transport amino acids into muscle tissues while promoting healthy removal of the catabolic hormone cortisol - powering even the most grueling workouts*
ATTAIN YOUR CALORIC INTAKE GOALS
Whole-foods are important in any bodybuilder's diet, but given the frequency you need to eat, the high cost of healthy foods, and the inconvenience of carrying around pounds of food with you, gainers can be the secret weapon of champions. ISOGAINER provides a large 691 calorie dosage of muscle building macros in just 1 serving! Each shake mixes smoothly and delivers the nutrients you need to help pack on slabs of lean mass.* Add it to your diet and training program and you'll be shocking your muscles into overgrowth.
WHAT MAKES ISOGAINER A "SMART" GAINER?
Science. Many weight gainers are notorious for boosting their total calorie count by simply using a giant serving size. Other more unscrupulous companies simply load their formulation up with simple sugars and fat. After consumption, these basic gainers typically cause a massive insulin spike that triggers fat-storage and promotes lethargy - not exactly an efficient way to gain muscle mass.
What makes ISOGAINER unique from ordinary gainers is its innovative lean blend that is scientifically derived from precisely balanced, premium ingredients. This advanced mass gainer contains a super-dense 5-Stage Protein Matrix, complex carbohydrates, and our Anabolic Activating Matrix. Just 1 serving of ISOGAINER is designed to keep your body in an anabolic state for hours on end and facilitate huge gains in size and lean muscle mass.*
IF I WANT TO BUILD SIZE, CAN'T I JUST EAT JUNK FOOD?
Sure, you'll build size that way - but it will be size around your gut! Imagine eating fast food 24 hours a day. While it might make you huge, it can never promote the kind of quality muscle and size gains that serious athletes achieve.
To build large amounts of lean muscle tissue you need a high calorie diet with the perfect balance of quality macronutrients to promote efficient muscle building and recovery. With ISOGAINER you are getting everything you need to crush your previous size gains, while keeping you on track to a well-defined physique.*
WILL TAKING A GAINER MAKE ME LOOK BLOATED?
Not when it comes to ISOGAINER. Our formula does not contain the excessive simple sugars, saturated fats, and fillers found in ordinary gainers, so you can expect bloating to be a thing of the past. What you will notice while using ISOGAINER in combination with a regular workout regimen is lean growth in your musculature and extended anabolic endurance, so you are primed to shatter all of your previous size records.*