Quick Links to Best Prices
2.38 Lbs.
(Buy 1 Get 1 FREE) Price History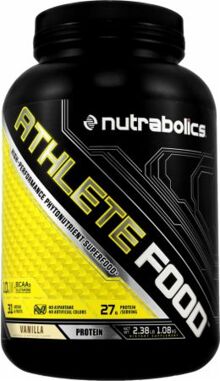 Nutrabolics Athlete's Food
100% WHEY PROTEIN
& WHEY ISOLATE
31 GREENS, FRUITS & VEGGIES
27G CLEAN PROTEIN
AMAZING TASTE
LOW IN FAT
10G BCAAs + GLUTAMINE
NO AMINO SPIKING
ASPARTAME FREE
ALL-IN-ONE SUPERFOOD FOR DAILY NUTRITIONMUSCLE GROWTH SUPPORTINCREASE PERFORMANCE & HEALTHAMAZING TASTE
all-in-one superfood
ATHLETE FOOD is a delicious all-in-one superfood for daily nutrition. Each serving starts with 27 grams of 100% Whey Protein, Whey Protein Isolate, and Hydrolyzed Whey Protein to support muscle growth. ATHLETE FOOD also contains 31 freeze-dried greens, vegetables and fruits to optimize your training performance, balance pH, boost health and enhance muscle recovery. With 10 grams of BCAAs and glutamine with no artificial colors or flavors, ATHLETE FOOD is the most complete superfood made for athletes.
"ATHLETE FOOD has everything needed to support overall health and muscle growth. Each scoop has whey protein, greens, veggies, and herbals all packed into one shake. The taste is sick and the nutrition is on point. I take two shakes a day for muscle building and recovery."