Quick Links to Best Prices Price History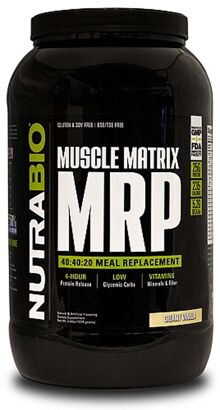 NutraBio Muscle Matrix MRP
40:40:20 Meal Replacement
4-hour Protein Release
Low Glycemic Carbs
Vitamins, minerals and Fibers
We live in a fast paced society, and whether we like it or not, most of us are constantly on the go. Because of this, it's hard to find time to truly eat like we are supposed to, because fast food restaurants present the best and fastest choice for a meal. NutraBio is changing this with their new Muscle Matrix MRP, this full meal replacement product features a 40:40:20 ratio of protein, carbs, and fats, giving you a full solid meal with all proportions already laid out for you.
Sustained Protein Release
Muscle Matrix MRP features two different types of protein: whey protein isolate (50%), and micellar protein (50%). This combination of protein provides quick absorbing isolates that are absorbed quickly into your system. While also giving you micellar protein which your body will absorb slowly and over an extended period of time while you are in between meals. This two tier absorption system allows you to fuel your body consistently, even between meals.
Complex and advanced carbs
Not only does this product feature complex carbs that provide fuel to your body, but it also features advanced carbohydrates as well. The ClusterDextrin carbs are advanced carbs that are composed of 93% carbs. These advanced carbs add another dimension to providing fuel to your body.
MCT Fats
The fats in this product are medium chain triglycerides (MCTs). Unlike long chain fats, these fats bipass the normal digestion process and actually act more like a carbohydrate than a fat. These fats allow the body to gain mass and energy, without increasing body fat. Because MCTs are digested different than most fats, they actually help to burn or reduce body fat. This is a result of the fact that when consumed with a meal, these fats will actually work to reduce the total number of fat calories and grams that are stored as fat, and actually make the fats consumed work toward energy, rather than storage.
Muscle Matrix MRP Supplement Facts