Quick Links to Best Prices Price History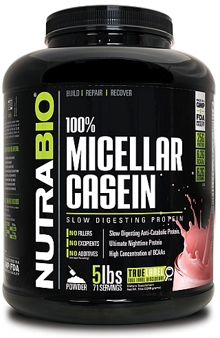 NutraBio 100% Micellar Casein
Product Description
Micellar Casein
The king of the night proteins, Micellar Casein is popular with bodybuilders and athletes for its uniquely prolonged release quality. This allows it to be absorbed gradually and metabolized slowly, which can result in slow but steady muscle maintenance and growth.
Micellar Casein by Nutrabio is not only one of  the purest forms of the protein available in the market; it is completely free of fillers and other additives. With Micellar Casein, athletes may see superior post training and nighttime muscle gain, while replenishing lost nutrients vital to the muscles.
What Does
Micellar Casein
Contain
Micellar Casein by Nutrabio contains only 100 percent pure Micellar Casein, without a trace of inferior quality caseinates. Not only that, but each serving has 6.2 grams of Glutamine and BCAAs.
Benefits of
Micellar Casein
Following are some of the benefits that you can expect from Micellar Casein by Nutrabio:
Complete range of muscle building amino acids in each serving
A slow and sustained release, allowing for slower absorption which can build muscle mass long after the workout has ended
Anti-catabolic effect which can protect the muscles from losing mass or breaking down
The ideal protein for nighttime consumption. Can be significantly more effective during periods of rest
Can Provide superior

muscle gain

as well as mass gain, due to pure, full spectrum amino profile
How to Take
Micellar Casein
The recommended intake is 1 or 2 scoops in water or skimmed milk, to be consumed over a 30 minute period, directly before going to bed, or in between regular meals, depending on individual needs.
Side Effects of
Micellar Casein
Due to the fact that Micellar Casein is a slow digesting protein, it has no significant side effects. All the same, it should not be consumed by minors, people with liver and kidney diseases and gastrointestinal discomfort.
Warning: This supplement is not a substitute for breast milk, and should not be consumed by lactating mothers or pregnant women.
Product Specifications
Category: Casein
Manufacturer: Nutrabio
Servings per Container: 29 servings – 2lb pack, 73 servings – 5lb pack
Serving Size: 1-2 Scoops
Each Serving Delivers:

Micellar Casein

– 30.9gm
Flavors: Vanilla, Unflavored, Chocolate and Strawberry