Quick Links to Best Prices Price History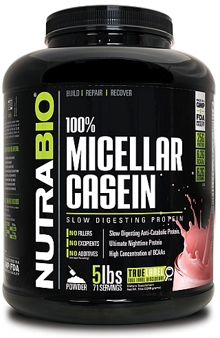 NutraBio 100% Micellar Casein
Slow Digesting Protein
Slow Digesting Anti-Catabolic Protein
Ultimate Nighttime Protein
High Concentration of BCAAs
No Fillers, No Excipients, No Additives
Sustained Release for Prolonged Amino Acid Delivery.
Micellar Casein has a slow absorption rate into the bloodstream, which provides a steady stream of amino acids to muscle cells lasting 4-6 hours. This ensures positive nitrogen retention in muscles for much longer periods compared to whey protein. Casein is best taken at night or in combination with whey protein isolate after workouts to help provide sustained amino acid delivery during the two most crucial times of muscle growth: during sleep and post-training.
High Concentration of BCAAs & Amino Acids
Shown is the typical amino acid profile per serving which is derived from micellar casein only. Absolutely no ingredients have been added to spike protein values.