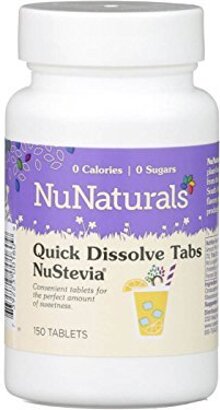 NuNaturals NuStevia White Stevia Quick Dissolve Tabs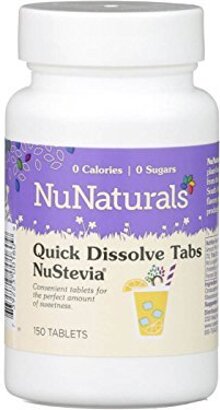 NuNaturals NuStevia White Stevia Quick Dissolve Tabs
NuNaturals NuStevia Quick Dissolve Tabs Description
NuNaturals Stevia products are not only non-bitter, but will not leave an unpleasant lingering aftertaste in your mouth like other Stevia products will. This is achieved by both removing the bitter components of the Stevia extract and through the use of natural flavors that improve the taste of the Stevia extract.
Quick Dissolve Tabs contain our NuStevia White Stevia Extract and fiber. These marvelous tabs are a pre-measured serving. The tabs are very easy  to break into halves or even fourths so that you can use as much as you want or as little as you want. NuStevia Quick Dissolve Tablets contains absolutely no calories or carbohydrates.
NuNaturals uses our special, highly concentrated Stevia extract, NuStevia, from which the bitterness of the extract has been removed. NuNaturals uses plant-based natural flavors that help to make our Stevia products the best-tasting ones available. NuStevia is a natural plant extract.
Directions
Suggested use: 1 or more tablets in your beverage.
Free Of Soy, yeast, gluten, wheat, milk, synthetics, artificial colors or flavors, preservatives, saccharin, aspartame, sucralose, or artificial sweeteners.