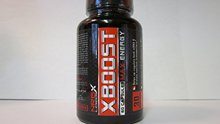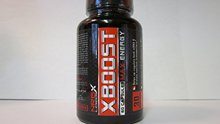 Boost Glycogen For Fuel! Increase ATP Production By 18% For Greater Endurance!
NRG-X Labs XBoost is a dream come true for those that want to amplify their pumps in the gym.  XBoost helps you keep more lean muscle mass, build mass faster, and is a very potent glucose disposal agent.  Included in this supplement are the ingredients agmatine sulfate, n-acetyl l-tyrosine, panax notoginseng root, and astragalus membranaceus root.  With each of these ingredients and more, they will ensure you are getting the most from your workouts and your body.   

NRG-X Labs XBoos
Agmatine sulfate helps your body achieve more muscle mass.  It can improve the mind-muscle connection to improve the contractive efforts of our muscles.  With the improvement of contractions, it can help promote improved effectiveness of exercises.  Agmatine sulfate also helps improve the endurance capacity so that any pain you may feel doesn't hold you back.    

Agmatine sulfate helps
N-acetyl l-tyrosine is an amino acid and nutrient precursor for approximately 90% of the brain's stimulatory catecholamines.  Tyrosine helps act as an anti-stress supplement by suppressing rises in cortisol and the norepinephrine depletion associated with the stress response.  It also helps increase attention and combat performance decrements during continuous efforts.   

N-acetyl l-tyrosine is an
Panax notoginseng helps improve blood flow while reducing blood pressure.
Astragalus membranaceus root is used for various health benefits.  It improves the rate of replication of immune cells and causes your body to produce more telomeres which is a part of your DNA that protects chromosomes from degradation.    

Panax notoginseng helps
Make sure you are getting the absolute best from your body and workouts and amplify your performance with XBoost.

Make sure you are gettin
Benefits
Helps up-regulate both mRNA and protein nutrient transporters
Increases ATP production by 18% for greater endurance
Boost glycogen for fuel

Benefits
FDA: These statements have not been evaluated by the Food and Drug Administration. This product is not intended to diagnose, treat, cure, or prevent any disease.

Shop our 100% secure server and get your supplements at the lowest prices everyday! NOBODY beats our overall price.

FDA
Shop our 100% secure server and get your supplements at the lowest prices everyday! NOBODY beats our overall price.