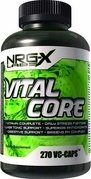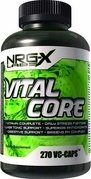 What's the one supplement that everyone needs to be using - the one thing that regardless of age, gender or workout goals needs to be in your cabinet, gym bag or on your kitchen counter? A good multi-vitamin!!! YES, you need to be taking your vitamins (OK, mom was right!!!) - now, who wants to be choking down 8+ horse sized tablets twice a day (that's 16+ HUGE tablets!!) and you can forget about all those "one a day" vitamins; the only way a "one a day" would get you the nutrients you need is if they mean, take one full bottle a day! I don't think so, with Vital Core you just take 3 capsules in the morning and 3 more in the evening (normal sized, EZ to swallow capsules) and you're done. You get everything you need and should be getting to make the rest of what you do in the gym or just at work run smoothly. Your body needs good nutrition and nutrients to help lose fat, build muscle, fight stress, help with digestion and just LIVE life to the up-most! Get a bottle of Vital Core today and feel the difference a quality multi-vitamin can make, YES, a good multi-vitamin (one that really works) should make you feel better; if you can't tell a difference on your current multi-vitamin pak or "one a day" then it isn't working! Get Vital Core today - Vital Core strengthens you from your core!

Vital Core is formulated for serious athletes and individuals who are subjected to the physical, mental and chemical stresses of a busy lifestyle. For the human body to perform at an optimal level, it must be supplied the correct balance of enzymatic nutrients like a high performance engine requires the right ratio of race fuels.

No need to choke down 8+ horse pills twice a day; with Vital Core all you need is 3 capsules with your morning meal and 3 more in the evening and you're done! It's that easy!

Vital Core combines key vitamins, minerals, greens blends, liver support and free radical scavengers for supporting optimal enzymatic functions, immune system, detoxification, pH balance and digestive health. Vital Core is enhanced with daily stress factors to combat the mental and physical fatigue that tear down our mind and body everyday. Vital Core strengthens from your CORE.

Supplement Facts:

Servings Per Container: 45
Serving Size: 6 VC-Caps

Amount Per Serving:
Vital Core Essentials
Vitamin A (as beta-carotene) 10,000iu
Lyocpene 2mg
Lutein 2mg
Ascorbic Acid 500mg.
Vitamin D (as ergocalciferol) 200iu
Vitamin E (as D-alpha tocopheryl) 200iu
Vitamin K (as phytonadione) 150mcg
Vitamin B-1 (as thiamin HCL) 30mg
Vitamin B-2 (as riboflavin) 30mg
Vitamin B-3 (as niacinamide) 40mg
Vitamin B-6 (as pyridoxine HCL) 30mg
Folic Acid 800mcg
Vitamin B-12 (as cyanocobalamin) 800mcg
Biotin 250mcg
Pantothenic Acid (as calcium pantothenate)100mg
Calcium (as carbonate) 200mg
Iodine (as Potassium Iodide) 250mcg
Magnesium (as magnesium oxide) 100mg
Zinc (as zinc oxide) 30mg
Selenium (as selenium chelate) 200mcg
Copper (as copper chelate) 500mcg
Manganese (as manganese sulfate) 3mg
Chromium (as chromium chelate) 250mcg
Molybdenum (as molybdenum chelate) 50mcg
Potassium (as potassium chloride) 100mg
Chloride (as potassium chloride) 91mg
Vanadium (as vanadyl sulfate) 5mg
Boron (as boron chelate) 2mg
Liver Health Tonic 850mg
N-Acetyl Cysteine, Methylsulfonylmethane, Milk Thistle (80% silymarin), Artichoke Extract (5% caffeylquinic acids), Curcuma longa (95% curcuminoids)
Greens pH Balance Complex 825mg.
Spirulina powder, Alfalfa Juice Concentrate 50%, Barley Grass Juice Concentrate, Wheat Grass Juice Concentrate, Chlorella (cracked cell)
Superior ORAC Antioxidant Complex 580mg
Pomagranate Extract (40% ellagic acid), Ginger Root Extract (5% gingerols), Alpha Lipoic Acid, Quercetin, Goji Berry Extract (50% polyphenols), Green Tea Extract (50% polyphenols, 45% EGCG), Bilberry Extract (25% anthocyanosides), Wild Blueberry Extract (16% anthocyanins), Gingko Biloba Extract (24/6), Grape Seed Extract (95% procyanidins)
Daily EPC Stress Factors 425mg
Ashwagandha (5:1 withanolides), Bacopa Monneri (40% A & B bacosides), Rhodiola Rosea (3% rosavins, 1% salidroside), Eleuthero Extract (50:1 eleutherosides)
Digestive Enzyme Factors 170mg
Pancreatin 4x, Betaine Anhydrous, Pepsin 1:15000, Natural Papain Concentrate

Other Ingredients:
Rice flour, Gelatin.

Directions:
Take 3 VC-Caps twice per day with your meals (breakfast and dinner preferably). For best results, Vital Core should be used in combination with other NRG-X Labs high quality products. It is recommended to consume at least 1-2 gallons of water per day, while eating a high protein/moderate carbohydrate diet as part of a healthy nutritional plan.

Disclaimer: Manufacturers continually change product specifications. While we try our best to keep product descriptions up to date, they do not necessarily reflect the latest information available from the manufacturer. We are not responsible for incorrect or outdated product descriptions and/or images.

These statements have not been evaluated by the Food and Drug Administration. This product is not intended to diagnose, treat, cure, or prevent any disease.