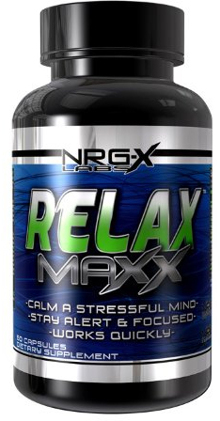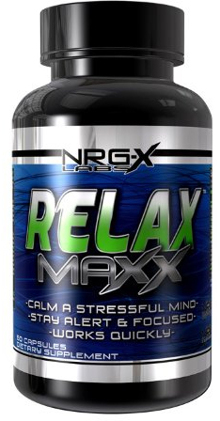 More, more, more, more... caffeine and ENERGY
... hey, that's our name - NRG-X... we are all about energy around here and PUMPING you up so you can blast through your workouts. While this is all great and safe and even enjoyable there are times when you need to calm down and just relax.
Relax MaXX is that supplement
, lets call it the "Anti-Stress Pill" - we found time tested and even some ancient herbal remedies to mellow you out all while keeping your energy and alertness in tact. Take one cap anytime you feel a bit on edge and within 30 minutes you'll feel mellow and able to clearly see the situation for what it is... nothing more than just feelings that you are well able to overcome!
Here are a few of the Relax MaXX key ingredients:Mucuna Pruriens Extract (98%)
- Mucuna Pruriens seeds have also been found to have antidepressant properties in cases of depressive neurosis when consumed and formulations of the seed powder have shown promise in the management and treatment of Parkinson disease. Dried leaves of M.pruriens are sometimes smoked. M.pruriens has also recently become popular among lucid dreaming enthusiasts as it stimulates the cholinergic system.
L-Theanine 98%
- Able to cross the blood-brain barrier, theanine has psychoactive properties. Theanine has been shown to reduce mental and physical stress, and improves cognition and mood.
Withania Somnifera
- In Ayurveda, the roots of Withania somnifera are used to prepare medicinal Ashwagandha. It is claimed to possess aphrodisiac, sedative, rejuvenative and life prolonging properties. In a randomized control trial examining the use of naturopathic care for anxiety, a "naturopathic care" group who received Withania Somnifera (along with "dietary counseling, deep breathing relaxation techniques, a standard multi-vitamin") showed significant improvements in anxiety (as measured by the Beck Anxiety Inventory) compared to a psychotherapy group (who received "psychotherapy, and matched deep breathing relaxation techniques, and placebo") after 8 weeks. Studies completed so far support that Withania somnifera may possibly be beneficial for: easing drug withdrawal symptoms, reducing anxiety, reducing arthritis pain in the knee and a clinical trial to improve the well-being of the elderly and breast cancer patients undergoing chemotherapy.
Valeriana Officinalis
- Valerian has been used to ease insomnia, anxiety, and nervous restlessness since the second century A.D., and grew especially popular in Europe in the 17th century. Valerian is a popular alternative to commonly prescribed medications for sleep problems because it is considered to be both safe and gentle.

Beta-Hydroxyethyldimethylamine
-Short-term studies of Beta-Hydroxyethyldimethylamine have shown an increase in vigilance and alertness with a positive influence on mood following administration of DMAE, vitamins, and minerals. Research for attention deficit hyperactivity disorder (ADHD) has been promising when using Beta-Hydroxyethyldimethylamine.
Supplement Facts:
Serving per Container : 60
Serving Size: 1 Capsule
Amount Per Serving:
Folate (as folic acid)
250mcg.
Vitamin B-3 (as inositol hexaniacinate)
5mg.
Vitamin B-5 ( as d-calcium pantothenate)
25mg.
Vitamin B-6 (as pyridoxine hcl)
5mg.
Vitamin D-3 (as natural cholecalciferol)
1000iu
MaXX RelaXX Complex
755mg.
L-Theanine (Standardized 98%), Withania Somnifera, Valeriana Officinalis, Mucuna Prureins (Standardized 98% L-Dopa), Beta-Hydroxyethyldimethylamine, N-Acetyl L-Tyrosine, White Willow Bark Extract (Standardized 15% salicin), Ginger Root (Standardized 5% gingerols), Peppermint Leaf Extract 4:1
Other Ingredients: Rice Flour, Magnesium Stearate, Gelatin, titanium dioxide.
Directions: Take 1 capsules 2-3 times daily - Relax MaXX works quickly (within 30min) so you can take it at the first signs of becoming jittery or stressed out or take 1 cap with each meal to stay calm and peaceful all day long! Do not exceed 3 capsules per day.
Note: Manufacturers continually change product specifications. While we try our best to keep product descriptions up to date, they do not necessarily reflect the latest information available from the manufacturer. We are not responsible for incorrect or outdated product descriptions and/or images.
These statements have not been evaluated by the Food and Drug Administration. This product is not intended to diagnose, treat, cure, or prevent any disease.