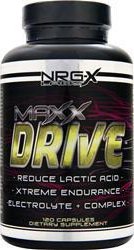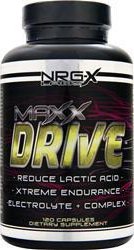 Maximize Recovery
Natural Energy
Buffer Lactic Acid
Eliminate Arm Pump
Electrolyte Fortified
Ammonia Scavengers
Boost Mental Focus
More Oxygen Delivery
Caffeine & Central Nervous System Stimulant Free
MaXX Drive was built for the doers of this world...
those that train in the gym for ONLY one reason... to perform better at their sport and WIN. It's odd that as supplement companies no one is making something to help us outside of the gym, I mean... all this training for hours and hours is leading somewhere right?? So, what are you training for?? Are supplements only for training day... when game day rolls around are we left to water and a banana... I think we can do better than that!
Well, I believe you ARE training for something EPIC
and from rock climbing to motocross, from snow-boarding to running a marathon and everything in between MaXX Drive will help you perform better and longer with less fatigue and more focus. Plus, it's going to help you train and practice longer and with more endurance and faster recovery times; bonus!!!
Formulated by a pro motoX team to help their racers increase mental focus,
reduce arm and back pump and lower lactic acid; NRG-X Labs' chemist refined the formula and added our own brand of tech to bring the time tested formula into the 21st century. Just think what you could do in your next event with less lactic acid buildup, less arm or back pump, more oxygen hitting your blood stream (a higher VO2 Max), a sharper mind and a double dose of electrolytes to keep your endurance running at peak performance!
MaXX Drive wasn't built to give you an xtreme pump in the gym or pack
on a solid 50lbs of muscles in 8 weeks (hey, we have stuff for that though) MaXX Drive is built to help you race longer, ride further, climb higher and get more wins under your belt - it's the GAME DAY supplement.
Lets face it there is a HUGE difference between training time and GAME TIME...
no one wants an xtreme pump or caffeine jitters when you are trying to grind out a new route 20,000ft up a mountain, or 4 hours into an endurance off-road race... this is not the time for a "training" supplement! MaXX Drive is fortified with Beta Alanine, N-Acetyl L- Tyrosine, L-Citrulline, Betaine Anhydrous, Rhodiola Rosea and Siberian Ginseng Extract Super Concentrate and our MaXX Electrolytes Plus Complex to help your body run at peak performance and draw out all those countless hours of training!!
Supplement Facts:
Servings per container: 30
Serving Size: 4 capsules
Amount per serving
Vitamin C (from calcium ascorbate) 60mg 100%
Vitamin B-3 (from inositol hexanicotinate) 5mg 25%
Vitamin B6 (from pyridoxine HCL) 5mg 250%
Vitamin B-12 (from methylcobalamin) 1000mcg 1667%
MaXX Electrolyte Plus Complex
Copper (from citrate, fumerate, succinate, malate, alpha-keto-gluterate) 1000mcg 50%
Zinc (as citrate, fumerate, succinate, malate, alpha-keto-gluterate)5mg 33%
Manganese (from citrate, fumerate, succinate, malate, alpha-keto-gluterate) 2mg 100%
Magnesium (from 248mg magnesium phosphate dibasic) 50mg 25%
Sodium ( from 300mg. sodium phosphate dibasic) 96mg 4%
Potassium (from 154mg. potassium bicarbonate) 60mg 1%
Chromium (from amino acid chelate) 100mcg 83%
DL-Malic Acid 200mg
Vinpocetine 99% 5000mcg
MAXX Drive Performance Complex 2365mg
Beta-Alanine, Rhodiola Rosea Extract 3% Rosavins (containing rhodioloside, tyrosol, gallic acid, chlorogenic acid), Siberian Ginseng Extract Super Concentrate 50:1 (containing phenolics, polysaccharides, eleutherosides), N-Acetyl L- Tyrosine, L-Citrulline, Betaine Anhydrous, Althaea Officinalis (containing xylan, glucoseans, flavonoid glycosides, phenolic acid, phytosterols), Quercetin, Alpha Lipoic Acid, N-Acetyl L- Cysteine
Other Ingredients: Magnesium Stearate, Rice Flour, Gelatin, Titanium Dioxide
Directions:
Training Days... Take 1 serving (4 Capsules) 30 minutes before training OR on off days (what are those again??) use 2 Capsules with your first meal or Sublime Whey shake of the day.
Game Days.... Take 1 serving (4 Capsules) 30 minutes before your athletic event, race, climb, run, moto-x, snow boarding or skiing event or whenever you need to perform better with less lactic acid build up, less arm, back and leg pump and have more focus and endurance!
Note: If your endurance event lasts longer than 4 hours you may use an additional 2 Capsules after the 4 hour mark for an extra boost. Do not exceed 8 capsules in a 12 hour time-frame.
Note: Manufacturers continually change product specifications. While we try our best to keep product descriptions up to date, they do not necessarily reflect the latest information available from the manufacturer. We are not responsible for incorrect or outdated product descriptions and/or images.

These statements have not been evaluated by the Food and Drug Administration. This product is not intended to diagnose, treat, cure, or prevent any disease.